Altering shear thickening of chemical mechanical polishing slurries through the addition of electrolytes and organic solvents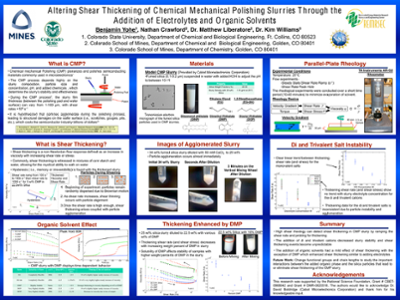 Name:
remrsec-Poster-2011-REU-BENJAM ...
Size:
809.6Kb
Format:
PDF
Description:
Altering shear thickening of ...
Abstract
Chemical mechanical polishing (CMP) planarizes and polishes semiconducting materials commonly used in microelectronics. The CMP process depends highly on the slurry composition, particle size and concentration, pH, and added chemicals, which determine the slurry's stability and effectiveness. During the CMP process, the slurry film thickness (between the polishing pad and wafer surface) can vary. It is hypothesized that particles agglomerate during the polishing process, leading to structural damages on the wafer surface (i.e., scratches, gouges, pits, etc.), which costs the semiconductor industry billions of dollars.
Rights
Copyright of the original work is retained by the author.