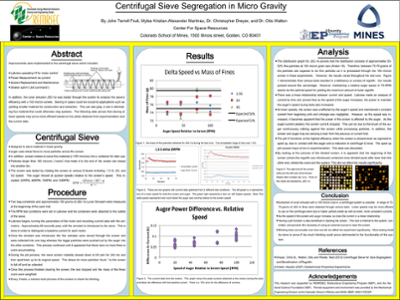 Name:
REMRSEC-REU-2012-Poster-FRUIT- ...
Size:
1.048Mb
Format:
PDF
Description:
Centrifugal sieve segregation ...
Abstract
Sieving in space could be crucial to applications such as yielding smaller material for construction and extraction. Thus, improvements were implemented to a centrifugal sieve which included: Labview operating VI for motor control; power measurement via current; screen replacement and maintenance; Shaker subVI ('Jolt command'). In addition, the lunar simulant JSC-1a was tested through the system to analyze the sieve's efficiency with 100 micron screen. This can also play a role in eliminating foul material that could otherwise clog systems. The following data proves that sieving at lower speeds may prove more efficient based on the yields obtained from experimentation and the current data.
Rights
Copyright of the original work is retained by the author.