Synthesis of phase pure tungsten carbide for high temperature H2 membranes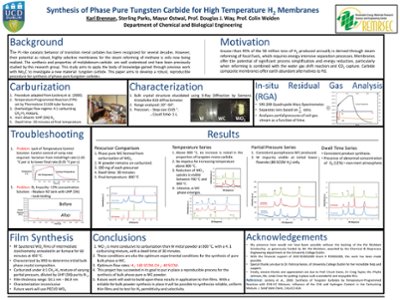 Name:
REMRSEC-REU-2012-Poster-BRENNA ...
Size:
777.4Kb
Format:
PDF
Description:
Synthesis of phase pure tungsten ...
Abstract
The Pt.-like catalytic behavior of transition metal carbides has been recognized for several decades. However, their potential as robust, highly selective membranes for the steam reforming of methane is only now being realized. The synthesis and properties of molybdenum carbide are well understood and have been previously studied by this research group. This study aims to apply the body of knowledge gained through previous work with Mo2C to investigate a new material: tungsten carbide. This paper aims to develop a robust, reproducible procedure for synthesis of phase-pure tungsten carbides. Greater than 95% of the 50 million tons of H2 produced annually is derived through steam reforming of fossil fuels, which requires energy-intensive separation processes. Membranes offer the potential of significant process simplification and energy reduction, particularly when reforming is combined with the water gas shift reaction and CO2 capture. Carbide composite membranes offer earth abundant alternatives to Pd.
Rights
Copyright of the original work is retained by the author.