Synthesis of [Si1-xGex]136 type II clathrates (0.1<x<0.5): alloyed semiconductor cages in crystalline vs. amorphous products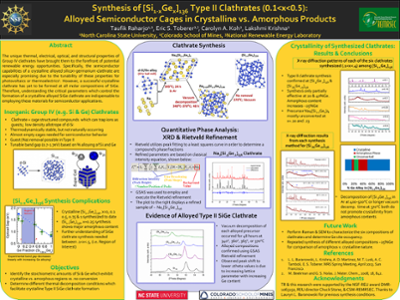 Name:
REMRSEC-REU-2013-Poster-RAHARJ ...
Size:
1.265Mb
Format:
PDF
Description:
Synthesis of [Si1-xGex]136 type ...
Abstract
The unique thermal, electrical, optical, and structural properties of Group IV clathrates have brought them to the forefront of potential renewable energy opportunities. Specifically, the semiconductor capabilities of crystalline alloyed silicon-germanium clathrate are especially promising due to the tenability of these properties for photovoltaics or thermoelectrics. However, a successful crystalline clathrate has yet to be formed at all molar compositions of SiGe. Therefore, understanding the critical parameters which control the formation of a crystalline alloyed SoGe clathrate are indispensable to employing these materials for semiconductor applications.
Rights
Copyright of the original work is retained by the author.