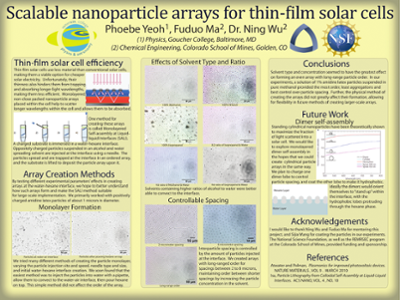 Name:
REMRSEC-REU-2013-Poster-YEOH-P ...
Size:
17.89Mb
Format:
PDF
Description:
Scalable nanoparticle arrays for ...
Abstract
Thin film solar cells use less material than conventional solar cells, making them a viable option for cheaper solar electricity. Unfortunately, their thinness also hinders them from trapping and absorbing longer light wavelengths, making them less efficient. Monolayered, non-close packed nanoparticle arrays placed within the cell help to scatter longer wavelengths within the cell and allows them to be absorbed. One method for creating these arrays is called Monolayered Self-assembly at Liquid-liquid Interfaces (SALI). A charged substrate is immersed in a water-hexane interface. Oppositely charged particles suspended in an alcohol and water spreading solvent are injected at the interface using a needle. The particles spread and are trapped at the interface in an ordered array, and the substrate is lifted to deposit the particle array upon it. By testing different experimental parameters' effects in creating arrays at the water-hexane interface, the goal is to understand how such arrays form and make the SALI method suitable for large-scale implementation. This work was done primarily with positively charged amidine latex particles of about 1 micron in diameter.
Rights
Copyright of the original work is retained by the author.