Addition of carbon black as a conductive support to bimetallic catalysts for use in anion exchange membrane fuel cells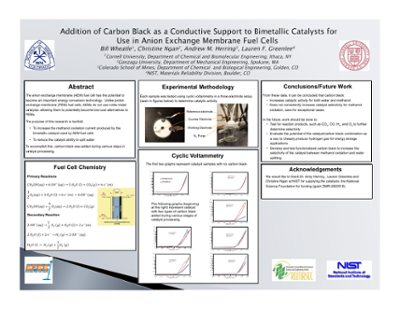 Name:
REMRSEC-REU-2013-Poster-WHEATL ...
Size:
1.739Mb
Format:
PDF
Description:
Addition of Carbon Black as a ...
Abstract
The anion exchange membrane (AEM) fuel cell has the potential to become an important energy conversion technology. Unlike proton exchange membrane (PEM) fuel cells, AEMs do not use noble metal catalysts, allowing them to potentially become low-cost alternatives to PEMs. The purpose of this research is twofold: To increase the methanol oxidation current produced by the bimetallic catalyst used by AEM fuel cells; To reduce the catalyst ability to split water. To accomplish this, carbon black was added during various steps in catalyst processing.
Rights
Copyright of the original work is retained by the author.