Defect analysis of phosphorus doped silicon quantum dots by electron spin resonance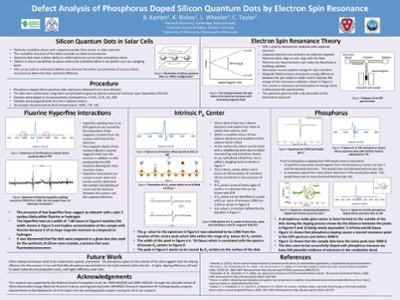 Name:
REMRSEC-REU-2013-Poster-KANTEN ...
Size:
838.2Kb
Format:
PDF
Description:
Defect analysis of phosphorus ...
Abstract
Perfectly crystalline silicon with a dopant provides free carriers in solar materials. The crystalline structure of the lattice provides an ideal semiconductor. Quantum dots have a better ability to collect electrical current than amorphous silicon. Defects in silicon are defined as places where the crystalline lattice is not perfect such as a dangling bond. Electron Spin Resonance can be used to understand defects and discover the defect concentration of various silicon structures to determine their potential efficiency. Phosphorus doped silicon quantum dots were synthesized using silane and phosphine gases by plasma enhanced chemical vapor deposition (PECVD). Samples were doped to increasing levels of phosphorus: 0.01%, 0.1%, 1%, 10%. Samples were prepared both dry and in toluene solvent. All samples characterized at three temperatures: 300K, 77K, 12K.
Rights
Copyright of the original work is retained by the author.