Experimental and numerical study of carbon dioxide injection enhanced oil recovery in low-permeability reservoirs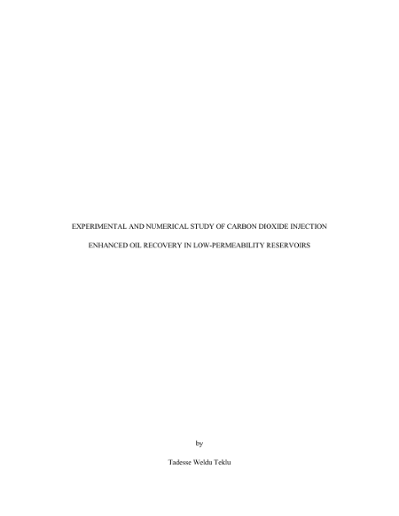 Name:
Teklu_mines_0052E_10713.pdf
Size:
5.708Mb
Format:
PDF
Description:
Experimental and numerical study ...
Advisor
Graves, Ramona M.
AlSumaiti, Ali M.
Abstract
Carbon dioxide (CO2) flooding is the most viable enhanced oil recovery (EOR) process in intermediate and light oil reservoirs, both in sandstone and carbonate reservoirs. Low-salinity waterflood is a relatively new EOR process. By combining the two EOR processes, a new low-salinity-water-alternating-CO2 (LS-WACO2) EOR process is investigated. To optimize residual oil mobilization, surfactant diluted in low-salinity water is injected as an intermediate sequence to the LS-WACO2 process; hence the second EOR process investigated is low-salinity-water-surfactant-CO2 (LSS-WACO2). Coreflood, interfacial tension (IFT), contact angle, and minimum miscibility pressure (MMP) measurement are performed to investigate the viability of both LS-WACO2 and LSS-WACO2 EOR processes. Favorable wettability alteration and IFT reduction are observed in addition to the significant incremental oil recovered during the coreflood experiments. Similar to CO2 and surfactant injection EOR processes - oil swelling and viscosity reduction, among other mechanisms are also contributing to the residual oil mobilization efficiencies. The coreflood experiments are mainly performed using low-permeability carbonate reservoir cores and fluids from a giant oil field in the Middle East. Additional contact angle measurements are also performed on Berea sandstone and Three Forks shale core samples. Based on the similarity of the favorable wettability alteration observed in all the cores used, it is concluded that the EOR processes is applicable to sandstone and shale reservoirs as well - in addition to carbonate reservoirs. However, multistage hydraulic fracturing and soaking may be required when the EOR processes are applied in ultra-low permeability reservoirs. In the compositional modeling portion of this thesis, implicit in pressure and explicit in saturation and composition (IMPESC) approach is implemented and validated. Equation of State (EoS) based partial molar volume and fluid compressibilities are used to linearize the multicomponent flow equation into a single pressure equation. A very good agreement is achieved between the implemented model and CMG. Possible extensions to the compositional model are included in the Appendixes. Moreover, conventional vapor-liquid equilibrium (VLE) calculation algorithm is extended to confined pore of nanopore scale by accounting critical pressure and critical temperature shifts, and capillary pressure effect. The extended VLE is used to study phase behavior and MMP in nanopores. A decrease in MMP is generally observed in nanopores. This decrease in MMP implication to EOR field application in unconventional reservoirs such as the Bakken and Eagle Ford is studied. Molecular diffusion coefficient calculation models and the possible contribution of molecular diffusion to EOR of unconventionals are also discussed.
Rights
Copyright of the original work is retained by the author.
Collections