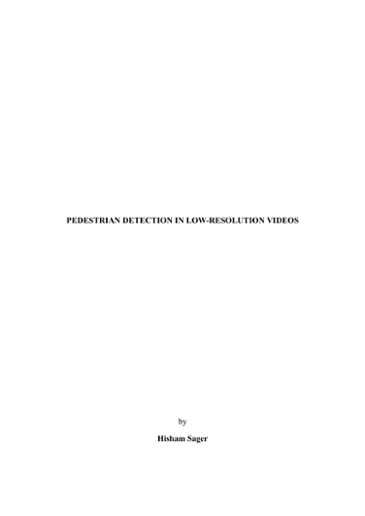 Name:
Sager_mines_0052E_10631.pdf
Size:
3.504Mb
Format:
PDF
Description:
Pedestrian detection in low-re ...
Abstract
In this dissertation, we address the problem of detecting pedestrians in low-resolution videos taken by stationary cameras and cameras mounted on aerial platforms. The target pedestrians are as small as 20 pixels in height. Pedestrian detection is a key problem in computer vision, and has several applications such as search and rescue, law enforcement and general surveillance, and military applications against enemies. The most common approach for pedestrian detection is to use high resolution single frame, and there is relatively little work focused on pedestrian detection in low resolution scenarios. Under more realistic and challenging conditions, performance of the available approaches degrades rapidly, while approaches that are based on appearance cues mostly fail since the pedestrians are only a few pixels in height. Detecting pedestrians is a challenging task, since pedestrians are non-rigid objects, ranging over a high variability of poses, appearances, and scales. The detection task typically takes place at scenes with a lot of background clutter which require high classification precision. The task becomes more challenging in aerial videos, due to the rapid change in viewpoints and scales, which makes video stabilization more difficult. Furthermore, the much larger search space and the small number of pixels on the target make it difficult to distinguish pedestrians from background clutter. In this problem domain, the existing state-of-the-art pedestrian detection methods have poor performance. Therefore, there is a clear need for a method that can detect pedestrians in low resolution imagery. To overcome these challenges, we propose a novel detection method that recognizes pedestrians in short sequences of frames (about ½ second in duration). We extend the single-frame HOG-based detector to a multiple frames detector. Our approach uses video stabilization to detect potential moving objects. A classifier is then applied to volumetric normalized features extracted from spatio-temporal volumes surrounding the potential moving objects. On several challenging stationary and aerial video datasets (PETS 2001, Stationary VIRAT, UCF-2009, UCF-2007, and aerial VIRAT), our detection accuracy is significantly better than the standard single-frame HOG-based detection method, and outperforms the previously published detector that uses Haar-like features at the same low false positive rates.
Rights
Copyright of the original work is retained by the author.
Collections