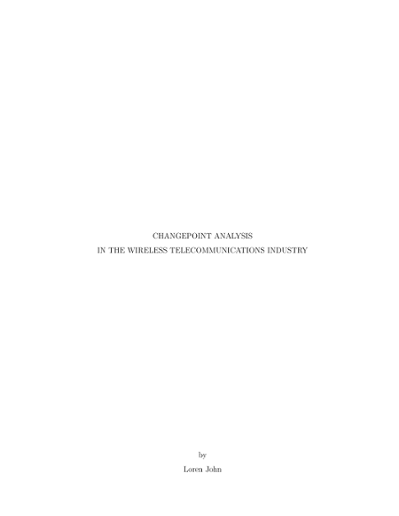 Name:
John_mines_0052N_10279.pdf
Size:
1.062Mb
Format:
PDF
Description:
Changepoint analysis in the ...
Advisor
Navidi, William Cyrus
Abstract
The purpose of the study performed was to use changepoint analysis to detect changes in the mean for three important variables in the wireless telecommunications industry. Two methods were used to determine the locations of the changepoints, first being a likelihood method already developed and a second newly proposed method using the maximum distance of the running means. We will use the changepoint locations associated with a specific point in time to determine if this associates with a particular advancement or upgrade to certain sites or the network as a whole. It can ultimately be determined that through our changepoint analysis using both the likelihood method and our newly proposed method, specific changes can be allocated to upgrades to the sites.
Rights
Copyright of the original work is retained by the author.
Collections