Estimating the influence of stress on elastic wave velocities from measurements made at different scales on sandstone facies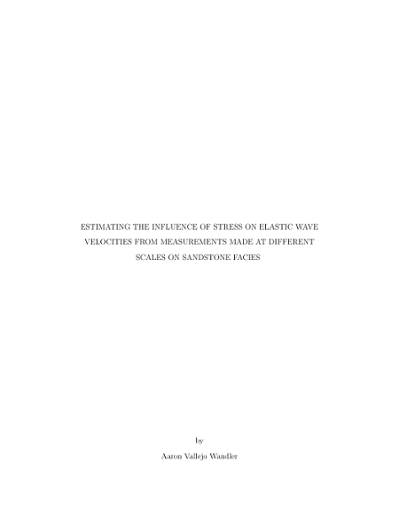 Name:
Wandler_mines_0052E_10316.pdf
Size:
3.105Mb
Format:
PDF
Description:
Estimating the influence of ...
Advisor
Davis, Thomas L. (Thomas Leonard), 1947-
Bratton, Tom
Abstract
Knowing how stress influences velocity is crucial for seismic reservoir monitoring because seismic reflection signatures are sensitive to the dynamic processes related to production or injection. In this thesis, I address this issue by conducting research to quantify the influence of stress on elastic wave velocities at different measurement scales. I compare the influence of stress on elastic wave velocities measured from borehole sonic data, time-lapse multicomponent surface seismic data, and laboratory core experiments. To make this comparison, I develop a methodology by combining a series of existing techniques to estimate the influence of stress on shear-wave velocity acquired from crossed-dipole borehole sonic data. By combining the crossed-dipole radial profile of shear wave velocity with the redistribution of stress caused by the presence of a borehole, I establish a relationship between velocity and stress from borehole measurements made within the reservoir. Previously, information about the influence of stress on elastic wave velocity has been primarily obtained through laboratory measurements. To estimate the magnitude of far-field principal stresses at the reservoir level in the subsurface I first integrate the formation bulk density well log to approximate the stress exerted by the overburden. Then, I use radial profiles of shear-wave slowness obtained from borehole sonic data to estimate the far-field principal horizontal stresses. Estimates of the far-field principal stresses are needed to model the stress redistribution caused by the drillout of a borehole. To study the influence that borehole stress redistribution has on shear-wave velocity, I combine the borehole stresses that influence a vertically propagating fast shear wave and the radial profile of the fast shear wave velocity. I use an excess compliance rock physics model to extrapolate the borehole shear wave velocity/stress relationship to predict the influence stress has on compressional wave velocity. Time-lapse multicomponent surface seismic data were recorded to monitor a water alternating gas (CO2) injection scheme for enhanced oil recovery. Interpretations of the time-lapse seismic data, in conjunction with a reservoir simulation model, indicate regions of increased reservoir pore pressure. To simulate the reservoir conditions during a water alternating gas injection scheme, I conducted laboratory core experiments in which I measured compressional and shear-wave velocities as a function of confining pressure, pore pressure, fluid type (which included CO2 in the gas and supercritical phase), and lithology. The shear wave velocity from the borehole sonic data and the time-lapse multicomponent surface seismic data show a very similar response to changes in stress. The laboratory experiments indicate the core velocity measurements are less sensitive to a change in stress than both the borehole and seismic data. Borehole sonic data provide an alternative and, in this case, a more accurate method than laboratory core measurements for estimating stress-induced changes in shear-wave velocity within a reservoir. An accurate rock-physics relationship between shear-wave velocity and effective stress is required for a quantitative interpretation of pore pressure changes from multicomponent time-lapse seismic data.
Rights
Copyright of the original work is retained by the author.
Collections