Geology of the Enterprise hydrothermal nickel deposit, eastern Kabompo Dome, North-Western Province, Zambia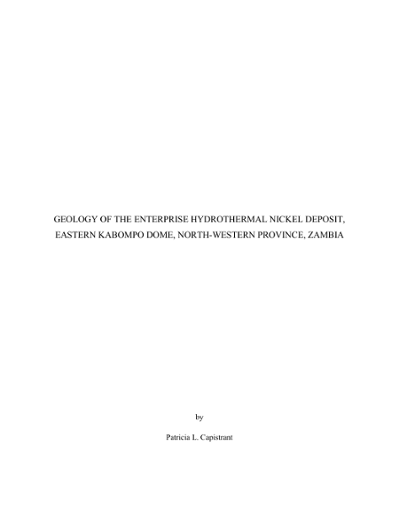 Name:
Capistrant_mines_0052N_10314.pdf
Size:
17.22Mb
Format:
PDF
Description:
Geology of the Enterprise ...
Advisor
Hitzman, Murray Walter
Abstract
The Enterprise nickel deposit (41 Mt at 1.07% Ni) is located within the western Domes region in the North-Western Province of Zambia. The deposit represents an apparently new style of hydrothermal nickel mineralization. The deposit area contains basement schists overlain by metasedimentary rocks of the Lower Roan Subgroup of the Katangan Supergroup. Nickel sulfide mineralization is hosted in a sequence of quartz-, carbonate-, and carbonaceous-rich metasedimentary rocks deposited within a northeast-trending graben that interfinger with and overlie the Lower Roan Subgroup basal siliciclastic metasedimentary rocks. A low angle structural zone occupied by polylithic breccia that is interpreted to have formed by halokinesis separates these rocks from overlying siltstones and dolomitic siltstones of the overlying Mwashya Subgroup and diamictites of the Nguba Group. Mafic igneous rocks occur throughout the sequence but are most abundant within and adjacent to the sequence hosting the ore. Lufilian deformation between 590 and 500 Ma produced low angle structures along the edges of Upper Roan Subgroup and locally along the basement-Katangan contact. Lufilian age metamorphism affected the entire sequence of rocks at Enterprise but well developed schistose fabrics and kyanite-bearing assemblages are restricted to the basement and the Lower Roan Subgroup rocks. Intense silicification and magnesian metasomatism apparently occurred nearly concurrently with a regional metamorphic event and resulted in talc, chlorite, and kyanite alteration of the host rocks. Mineralization resulted in the precipitation of nickel and iron-nickel sulfide minerals in veins and as semi-massive replacements of the host rocks. Nickel sulfide minerals precipitated in two main stages: 1) a millerite-vaesite-pyrite assemblage in vuggy textured rocks that forms disseminations and semi-massive replacements, and 2) a later millerite-bravoite-molybdenite assemblage that forms semi-massive replacements and occurs in quartz-kyanite veins. A discrete zone of copper sulfides underlies the nickel sulfide zones. Sulfur isotopic studies indicate Neoproterozoic marine sulfate was the primary source of sulfur at Enterprise. Carbon and oxygen isotope values at Enterprise suggest that organic carbon was not highly oxidized during the mineralization event though mineralized zones occur adjacent to highly carbonaceous sediments with total organic contents up to 17%. Re-Os geochronology yielded a 540.6 [plus-minus sign] 1.8 Ma age for mineralization at Enterprise.
Rights
Copyright of the original work is retained by the author.
Collections