Arsenic removal from enargite with sodium carbonate using complete and partial oxidized roasting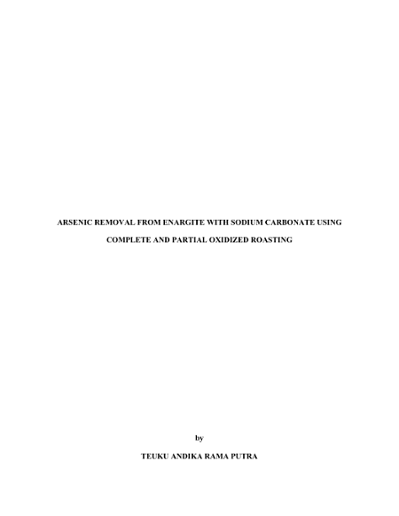 Name:
Putra_mines_0052E_10312.pdf
Size:
16.76Mb
Format:
PDF
Description:
Arsenic removal from enargite ...
Advisor
Taylor, Patrick R.
Dagdelen, Kadri
Abstract
Over the past few decades, arsenic-bearing enargite concentrate have become more prevalent in the mining industry. The high arsenic content in enargite presents a problem to copper smelters, as the ability to meet stricter environmental standards and the ability to market arsenic by-products have hampered profitability. Recently, most smelters will not take a copper concentrate that contains more than 0.5% arsenic. This study investigated a new method of removing arsenic from enargite containing copper concentrates through a pyrometallurgical method. The proposed method was roasting a mixture of sodium carbonate (Na2CO3) and enargite containing copper concentrates to convert the arsenic to a water soluble sodium arsenate while either completely oxidizing the sulfide minerals present or by only partially oxidizing the sulfur minerals. The roast calcine was then water leached to remove the soluble sodium arsenate (Na3AsO4) and the water leached arsenic was precipitated using ferric sulfate (Fe2(SO4)3). The results showed successful arsenic removal with the percentage of arsenic removed and retained in the solution using complete oxidation roasting was about 70% while using partial oxidation the percentage increase to 88%. The copper and iron stayed at the same amount in both methods after the process; while more than 50% sulfur maintained during the partial oxidation roasting. The precipitation resulted as a stable solid ferric arsenate (FeAsO4) either scorodite or arsenic-bearing ferrihydrite compound. Methods to regenerate the sodium carbonate from the precipitation process solutions are proposed along with methods to regenerate ferric sulfate. This study also developed a preliminary process flow sheet and preliminary economic analysis for capital, operating costs and revenue.
Rights
Copyright of the original work is retained by the author.
Collections