Flexible automatically adaptive surface nuclear magnetic resonance modelling and inversion framework incorporating complex data and static dephasing dynamics, A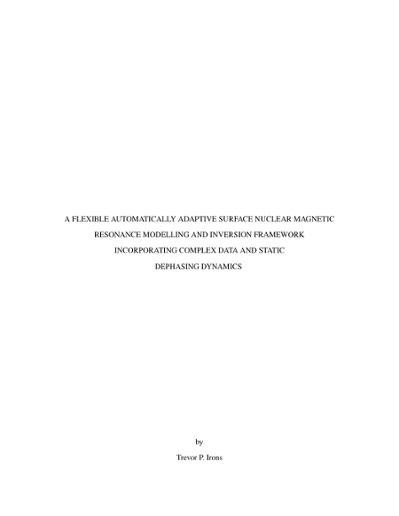 Name:
Irons_mines_0052E_10310.pdf
Size:
8.732Mb
Format:
PDF
Description:
A flexible automatically adaptive ...
Abstract
Surface nuclear magnetic resonance (sNMR) is the only geophysical technique that can directly and non-invasively detect the presence of subsurface liquid water. The method has established itself as valuable tool for hydrologists and groundwater managers owing to the fact that both porosity and hydraulic conductivity estimates can be made using this technique. Although sNMR has enormous potential, there are many challenges with the technique which hinder it's more widespread adoption. For these reasons sNMR has primarily been used as a 1D groundwater sounding tool, although there exist myriad other applications for a method directly sensitive to liquid water. Simultaneously inverting the entire complex dataset as well as the employment of arrays of separated transmitter and receiver coils and integration with other geophysical methods can help to overcome these limitations. This requires modelling algorithms that can accommodate a widely varying set of survey configurations and scenarios. I present the innovative use of sNMR applied to two geotechnical problems: volcanic landslide hazard characterization on Mt. Baker, Washington and the monitoring of internal erosion in earthen embankments. These applications necessitated the development of a general modelling framework capable of handling arbitrary positioned transmitter and receiver coils as well as 3D water distribution. The advantages of comprehensive (whole dataset) inversion of the entire sNMR record have been established for time-domain inversions. However, these inversions are memory intensive and struggle to fit the phase portion of the dataset-necessitating the regretful dismissal of this valuable information. I instead consider the sNMR inversion problem in the frequency-domain for the first time. There are several benefits: effectively lossless compression, and the ability to easily incorporate and solve for static dephasing dynamics caused by magnetic field inhomogeneities. This has allowed for the first practical sNMR inversion capable of fitting complex field data, resulting in improved imaging.
Rights
Copyright of the original work is retained by the author.
Collections