Coupled flow and geomechanics model for enhanced oil and gas recovery in shale formations, A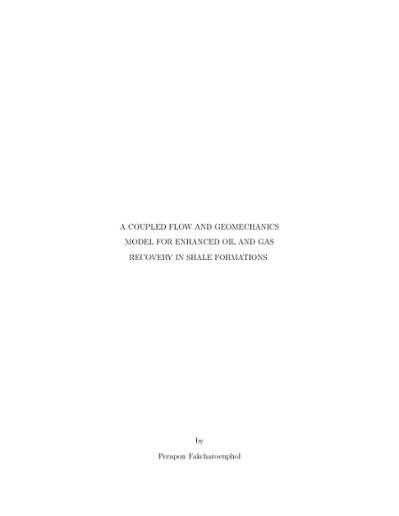 Name:
Fakcharoenphol_mines_0052E_103 ...
Size:
45.99Mb
Format:
PDF
Description:
A coupled flow and geomechanics ...
Advisor
Wu, Yu-Shu
Kazemi, Hossein
Abstract
Economic production from shale formations has been achieved because of advances in horizontal well drilling and hydraulic fracturing. Nonetheless, hydrocarbon recovery from these reservoirs is still low because reservoir pores are extremely difficult to access and flow mechanisms are not well understood. Field observations indicate complex production characteristics; thus, understanding the underlying physics should lead to new insights about such flow behavior, and ultimately lead to the development of techniques for improving oil and gas production from shale reservoirs. This research focuses on: (1) explaining the observed increase in well flow rate resulting from long shut-in periods in some production wells, and (2) investigating whether waterflooding can improve hydrocarbon recovery in the greater Bakken formations. Two numerical models were developed to: (1) investigate the effect of gravity, capillarity and osmoticity on phase re-distribution during well shut-in and (2) determine the effect of induced stress generated by waterflooding on creation of microfractures to stimulate reservoir performance. Modeling results indicate that capillary and osmotic pressure cause the fracturing fluid filtrate to enter shale matrix during well shut in. As a result, water saturation in the fractures becomes smaller, which simultaneously increases gas flow-rate. The osmotic pressure is important when the capillary force does not imbibe water. Moreover, during waterflooding, pressure- and temperature-induced stress could reactivate existing natural fractures or create new microfractures by shear stress failure. Once these microfractures are created, the interface area between the fractures and matrix will increase to promote gas and oil drainage into the fracture network. These positive effects are particularly important farther away from the immediate vicinity of hydraulic fractures where much of the undrained gas and oil reside. The above observations and insights imply that there may be opportunities for devising methods to enhance oil and gas recovery in shale formations using low-salinity, cold water injection. The enhanced production is the result of: (1) water-oil and water-gas counter-current flow due to capillary or osmotic pressure, and (2) increase in fracture-matrix interface area due to microfracturing.
Rights
Copyright of the original work is retained by the author.
Collections