Analysis of low transformation temperature welding (LTTW) consumables: distortion control and evolution of residual stresses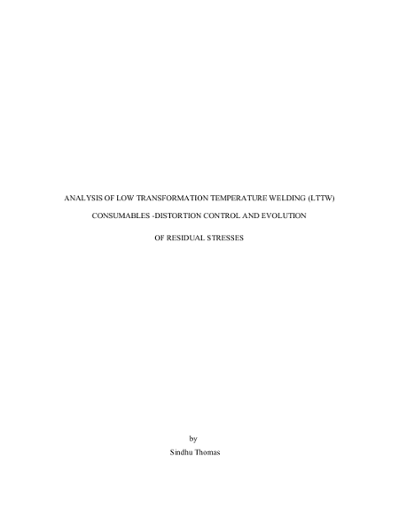 Name:
Thomas_mines_0052N_10299.pdf
Size:
3.369Mb
Format:
PDF
Description:
Analysis of low transformation ...
Abstract
Distortion and tensile residual stresses have become a major concern in the structural integrity of a welded structure. The tensile residual stress which is undesirable is observed in steel welds after completion of solidification and after the weld is cooled to room temperature. They result due to thermal contraction that occurs during cooling. These tensile residual stresses also give rise to distortion. The deleterious tensile residual stresses in the weld toe region reduce the fatigue life of weld components. Methods like flame straightening, post weld heat treatment and shot peening are used to reduce tensile residual stresses. However, these processes are expensive and time consuming. Finally, a decade ago a solution was targeted to this problem. Inducing compressive residual stresses from martensite transformation surfaced as a solution in order to reduce tensile residual stresses to improve fatigue life of the welded component. Efforts were made to design consumables that can induce compressive residual stresses near the weld toe region via phase transformations. The Martensite start (Ms) and finish (Mf) temperatures are essential parameters in inducing compressive residual stresses. It is important that the martensite transformation begins at lower temperature and finishes at a temperature just above the final temperature to which the final weld is expected to cool. Consumables with lower Ms temperature, 100 degrees C, 150 degrees C, 200 degrees C and 350 degrees C, were designed. Alloy compositions in the consumables play a significant role in affecting the temperatures of phase transformations. This research work presents the comparisons of the experimentally and Sysweld calculated measurements for distortions and residual stresses for different plate thicknesses and also investigates the susceptibility of the low transformation temperature welding steels to intergranular corrosion. It showed that when two sets of welding wires with similar transformation temperatures with different compositions were tested on different plate thicknesses with same heat input both by experiment and simulation, different out-of-plane distortion resulted. Also, alloys with higher chromium equivalent promoted greater compressive residual stresses in the weld toe region which reduced distortion when compared to the ones with higher nickel content. Also residual stress evolution with time graphs were plotted to determine the amount of martensite required to promote compressive residual stresses and to calculate the time required to induce compressive residual stresses. The main aspect of this research is to analyze the behavior of Low Transformation Temperature Welding consumables in terms of distortion and residual stresses on various plate thicknesses.
Rights
Copyright of the original work is retained by the author.
Collections