Coupled hydromechanical and electromagnetic responses in unsaturated porous media: theory, observation, and numerical simulations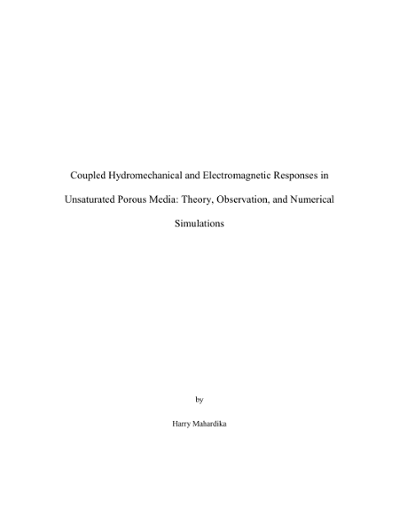 Name:
Mahardika_mines_0052E_10267.pdf
Size:
6.405Mb
Format:
PDF
Description:
Coupled hydromechanical and ...
Advisor
Revil, André, 1970-
Abstract
Hydromechanical energy can be partially converted into electromagnetic energy due to electrokinetic effect, where mechanical energy causes the relative displacement of the charged pore water with respect to the solid skeleton of the porous material and generated electrical current density. An application of this phenomenon is seismoelectric method, a geophysical method in which electromagnetic signals are recorded and associated with the propagation of seismic waves. Due to its coupling nature, seismoelectric method promises advantages in characterizing the subsurface properties and geometry compared to independent employments of seismic or electromagnetic acquisition alone. Since the recorded seismoelectric signal are sensitive to water content changes this method have been applied for groundwater studies to delineates vadoze zone-aquifer boundary since the last twenty years. The problem, however, the existing governing equations of coupled seismic and electromagnetic are not accounted for unsaturated conditions and its petrophysical sensitivity to water content. In this thesis we extend the applications of seismoelectric method for unsaturated porous medium for several geophysical problems. (1) We begin our study with numerical study to localize and characterize a seismic event induced by hydraulic fracturing operation sedimentary rocks. In this problem, we use the fully-saturated case of seismoelectric method and we propose a new joint inversion scheme (seismic and seismoelectric) to determine the position and moment tensor that event. (2) We expand the seismoelectric theory for unsaturated condition and show that the generation of electrical current density are depend on several important petrophysical properties that are sensitive to water content. This new expansion of governing equation provide us theory for developing a new approach for seismoelectric method to image the oil water encroachment front during water flooding of an oil reservoir or an aquifer contaminated with DNAPL. (3) Next, we present a test case which is the first-attempt analysis of seismoelectric sounding measurements done on glacial environment of Glacier de Tsanfleuron through numerical forward modeling. Here we treat the snow-glacial environment similar as with vadoze zone-aquifer zone in unsaturated porous medium. (4) The modified governing equations also provides us foundations to do another case study, which is characterization of seismoelectrical events generated from water content changes in the vadoze zone measured using seismoelectric sounding from NE England. (5) We finalize the thesis with an interpretation of electrical signal generated from water injection experiment done on the top two meter of the soil surface (vadoze zone) using inverse calculation presented on the first topic of the thesis. The fundamental research presented on this thesis hopefully provides a basis for further advancement on seismoelectric or joint seismic-electrical methods for applications ranging from hydrogeology, volcanology and geothermal energy, and oil and gas cases.
Rights
Copyright of the original work is retained by the author.
Collections