Evaluation of microstructural factors affecting cold headability of medium carbon steels, An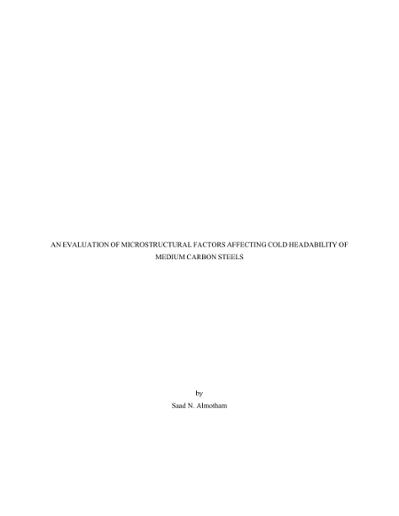 Name:
Almotham_mines_0052N_10292.pdf
Size:
11.95Mb
Format:
PDF
Description:
An evaluation of microstructural ...
Advisor
Matlock, David K.
Abstract
Cold heading is a cold forging operation that is of increasing importance in the steel industry. A series of 1045 steels, 41XX steels, two 16MnCr5 steels and a 1080V steel were evaluated using a laboratory cold heading test in order to evaluate the effects of chemical composition and microstructural variations on cold headability of steel. In addition, heat-treatment schedules were performed on a 10V45 w/Nb material in order to evaluate cold headability of various steel microstructures processed from the same base material. All samples were machined using a 16G surface finish. Lubrication was found to cause an unstable deformation mode and thus, all tests were performed after acetone wiping to ensure consistent friction conditions by removal of residual oil films. Imposed deformation speeds of 0.15, 1.5 and 15 mm/s during testing of as-received 1045 materials showed that fracture behavior in microalloyed 1045 materials was independent of deformation speed and thus, a test speed of 15 mm/s was used for all tests. Three types of cracks were observed in cold-headed samples: longitudinal, shear and `mixed' mode. However, cracks which nucleated at low strains were found to be longitudinal for all materials except for hot-rolled 4140 which exhibited a tendency towards shear cracking. Fracture limits, defined as the true compressive strain at which no cracks were detected at 20X, were found to correlate with hardness and sulfur content of the steels. Increasing hardness and sulfur content corresponded to a decrease in the fracture limit. Fracture in all materials occurred by ductile rupture via void nucleation and growth and void nucleation was found to be enhanced by sulfide inclusions in 1045 and heat-treated 10V45 materials. Testing of heat-treated 10V45 w/Nb materials was unable to assign fracture limit values as small longitudinal cracks were observed at strains lower than the fracture limit of as-received 10V45 w/Nb. Spheroidized 41XX materials exhibited the best formabilities of all materials. Pre-drawing enhanced cold headability of 4140 and 4135 but had a limited effect on PL41. The 1045 materials had lower fracture limits than 41XX materials despite having comparable hardnesses. Testing of 16MnCr5 and 1080V materials revealed that a high carbon steel with a low sulfur content can undergo approximately the same amount of deformation as a low carbon steel with a high sulfur content without fracture. Surface roughening occurred as either uniform orange peel or longitudinal surface relief. The type of surface roughening corresponded to microstructures of the different materials.
Rights
Copyright of the original work is retained by the author.
Collections