Microstructural dependence of wear resistance in austenite containing plate steels, The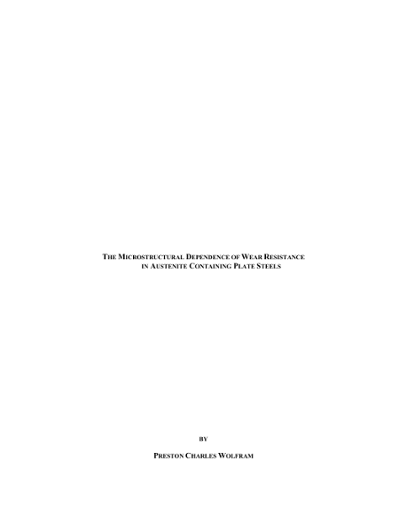 Name:
Wolfram_mines_0052N_10296.pdf
Size:
18.85Mb
Format:
PDF
Description:
Microstructural dependence of ...
Advisor
De Moor, Emmanuel
Abstract
The purpose of this project was to examine the microstructural dependence of wear resistance of various plate steels, with interests in exploring the influence of retained austenite (RA). Materials resistant to abrasive wear are desirable in the industrial areas of agriculture, earth moving, excavation, mining, mineral processing, and transportation. Abrasive wear contributes to significant financial cost associated with wear to the industry. The motivation for the current study was to determine whether it would be beneficial from a wear resistance perspective to produce plate steels with increased amounts of retained austenite. This thesis investigates this motivation through a material matrix containing AR400F, Abrasive (0.21 wt pct C, 1.26 wt pct Mn, 0.21 wt pct Si, 0.15 wt pct Ni, 0.18 wt pct Mo), Armor (0.46 wt pct C, 0.54 wt pct Mn, 0.36 wt pct Si, 1.74 wt pct Ni, 0.31 wt pct Mo), 9260, 301SS, Hadfield, and SAE 4325 steels. The Abrasive, Armor and 9260 steels were heat treated using different methods such as quench and temper, isothermal bainitic hold, and quench and partitioning (Q and P). These heat treatments yielded various microstructures and the test matrix allowed for investigation of steels with similar hardness and varying levels of RA. The wear test methods used consisted of dry sand rubber wheel (DSRW), impeller-tumbler impact-abrasion (impeller), and Bond abrasion wear testing. DSRW and impeller wear resistance was found to increase with hardness and retained austenite levels at certain hardness levels. Some Q and P samples exhibited similar or less wear than the Hadfield steels in DSRW and impeller tests. Scanning electron microscopy investigation of wear surfaces revealed different wear mechanisms for the different wear test methods ranging from micro-plowing, to micro-cutting and to fragmentation.
Rights
Copyright of the original work is retained by the author.
Collections