Optimal sizing and dispatch of cooling systems with cold thermal energy storage for commercial buildings: a mixed-integer nonlinear programming approach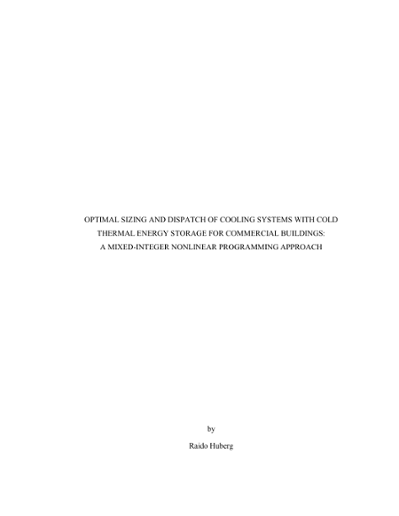 Name:
Huberg_mines_0052N_10289.pdf
Size:
3.497Mb
Format:
PDF
Description:
Optimal sizing and dispatch of ...
Abstract
Commercial buildings account for a large fraction of electricity consumption in the United States. Literature indicates that distributed multi-energy systems have the potential to reduce the annual cost and emissions and to improve the energy conversion efficiency of a commercial building energy system. In addition, thermal energy storage has been found to improve the energy efficiency, reduce emission rates and improve the economics of a building energy system. In the literature, numerous prime movers, system configurations and dispatch strategies have been investigated. Solid oxide fuel cell (SOFC) technology promises high-efficiency and low emission conversion of readily available natural gas, compared to conventional technologies like Stirling engines and micro-turbines; thus, SOFCs have garnered significant interest as prime movers. However, the design and dispatch of distributed multi-energy generation systems in the presence of cooling, heating and power demand, along with time-of-use utility pricing and/or demand charges for a full year, is a complex endeavor and there is a lack of understanding of how to design, size and dispatch such a system. A previously developed method by Pruitt et al., 2012 is used to solve linear approximations of mixed-integer non-linear programming models. The previously developed method is capable of finding the design of the system, the size of different DG technologies, and dispatch strategy for a distributed multi-energy generation system meeting the energy needs of a building at a minimum annual cost. Technologies and energy systems investigated in this study are: power-only, co-generation of heat and power (CHP) and co-generation of cooling, heat and power (CCHP) SOFCs (with variable efficiency and minimum turn-down ratios), cold water storage tanks, and absorption and vapor compression chillers. In addition, we investigate the effects of both time-of-use and demand charges for electric power consumption. Our optimization efforts reveal that Cold Water Storage (CWS) tanks have great savings potential in today's market conditions, compared to absorption chillers. CWS tanks reduce the total annual costs by up to 16% and result in a negative payback time and reduced carbon dioxide emissions by 1.5 to 4% for all cases considered, by increasing the COP of chillers. In addition, we present sensitivity analysis on several technology characteristics and on the utility pricing.
Rights
Copyright of the original work is retained by the author.
Collections