Numerical modeling of a lead melting front under the influence of natural convection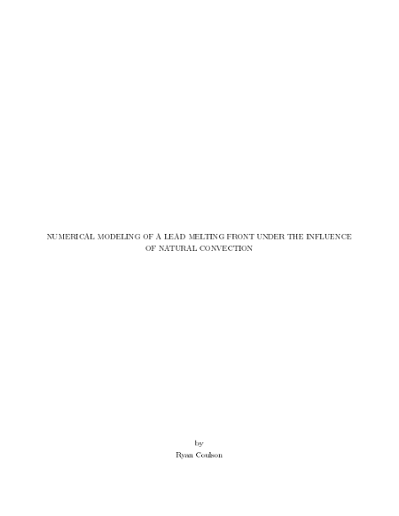 Name:
Coulson_mines_0052N_10275.pdf
Size:
5.644Mb
Format:
PDF
Description:
Numerical modeling of a lead ...
Abstract
This work presents a study of the Effective Heat Capacity (EHC) method applied to the numerical simulation of the interface between a solid and a naturally convecting pool of liquid lead under pseudo-steady-state and transient conditions using COMSOL Multiphysics. The EHC method is implemented as a temperature dependent pseudo-material with discontinuities in the heat capacity, dynamic viscosity, and thermal conductivity to simulate the melting front. The approach is validated with experimental data for a vertical melting front between two walls. The hot wall heat flux and the cold wall temperature are adjusted until the numerical model that best matches the experimental data is found. The best case boundary conditions then serve as the control in subsequent studies of key modeling parameters, including the mesh refinement, the discontinuity width and location, the maximum allowable time step, and the jump in dynamic viscosity. An extra fine mesh with a maximum element size of 1.24 * 10[superscript -3] m[superscript 2] results in the most accurate model. For pseudo-steady-state models the width and location of the discontinuity does not affect the results substantially but it does affect the settling times and transient behavior of the models. The maximum allowable time step is dependent on the mesh resolution. The behavior of the pseudo-solid transitions from solid to liquid when the dynamic viscosity is less then 1.0 * 10[superscript 4] Pa [middle dot] s.
Rights
Copyright of the original work is retained by the author.
Collections