Pressure transient analysis of fractured wells in shale reservoirs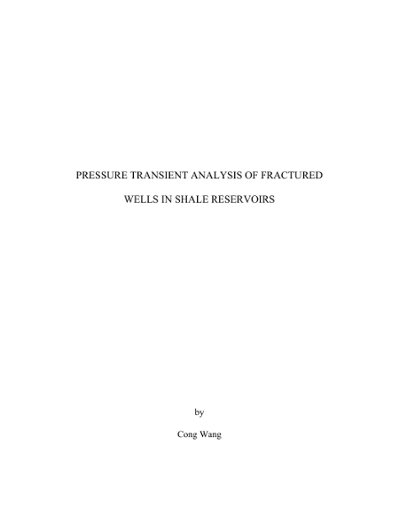 Name:
Wang_mines_0052N_10274.pdf
Size:
1.944Mb
Format:
PDF
Description:
Pressure transient analysis of ...
Abstract
In this study, an unconventional reservoir simulator is developed, which is based on a general black-oil simulator "MSFLOW". We incorporate several non-linear flow mechanisms (Klinkenberg effects, non-Darcy flow, gas adsorption and geomechanics effect) into the simulator. We also present a hybrid-fracture conceptual model to describe different types and scales of fractures from explicit hydraulic fractures and fracture network in simulated reservoir volume (SRV) to distributed natural fractures, microfractures, and tight sand matrix. Numerical formulation and its implementation of the simulator are validated using analytical results. Then this simulator is used to study gas flow in shale reservoirs. Three application examples are presented with this unconventional reservoir gas simulator. 1) We evaluate each of the above-mentioned non-linear flow mechanisms in a horizontal well, multi-stage hydraulic fractures reservoir scenario to see their influence on production. 2) We conduct a study of the "hydraulic fracture-matrix" linear flow and propose a methodology to estimate the total hydraulic fracture and matrix contact area. 3) We complete a history match of field data. These examples demonstrate the applicability of the reservoir simulator to modeling unconventional gas reservoirs.
Rights
Copyright of the original work is retained by the author.
Collections