Designing a social website to encourage networking among women students at conferences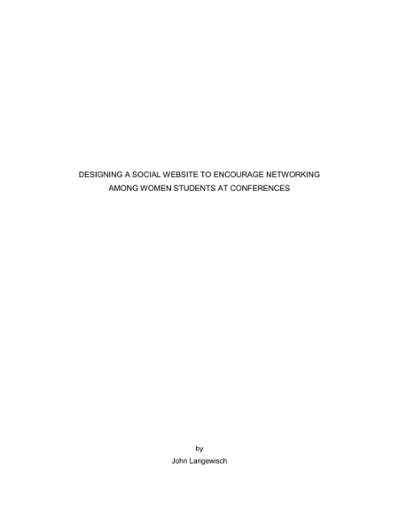 Name:
Langewisch_mines_0052N_10273.pdf
Size:
4.318Mb
Format:
PDF
Description:
Designing a social website to ...
Advisor
Rader, Cyndi A. (Cyndi Ann)
Camp, Tracy
Abstract
The percentage of women participating in computer science has been disturbingly low, and the number of computer and information science degrees earned by women has been on a downward trend. Several conferences have been put in place to address this issue, but networking at these conferences is still critical for women to gain the connections they need to succeed and remain in the field. This thesis evaluates various features of CONNECT (Creating Open Networks aNd Expanding Connections with Technology), a system designed to support networking activities at conferences, to assess their effect on assisting women with networking. Results from pre/post surveys as well as usage logging demonstrate that technology can be used to effectively increase women's knowledge and confidence in professional networking. Results also showed that, while graduate student women tend to have an understanding of the importance of networking, many of them do not know how to network effectively. These women were able to use CONNECT effectively to develop relevant connections and establish appropriate communities, in addition to increasing their confidence and knowledge of how to network.
Rights
Copyright of the original work is retained by the author.
Collections