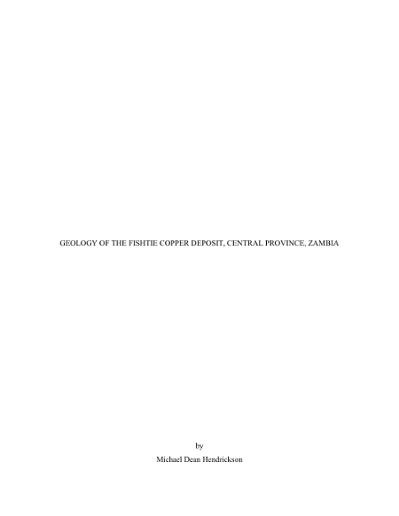 Name:
Hendrickson_mines_0052N_10256.pdf
Size:
13.88Mb
Format:
PDF
Description:
Geology of the Fishtie copper ...
Advisor
Hitzman, Murray Walter
Abstract
The Fishtie copper deposit is located in Central Province, Zambia, approximately three miles south of the border with the Democratic Republic of Congo. It contains approximately 55 Mt of 1.04% Cu at a 0.5% Cu cut-off in oxide, sulfide, and mixed oxide-sulfide ore. The deposit is hosted in the Grand Conglomérat unit and overlying Kakontwe Limestone unit of the lower Nguba Group. The Grand Conglomérat directly overlies basement schists and quartzites at Fishtie. Mineralized zones are located adjacent to high angle normal faults. The thickest successions of the Grand Conglomérat occur adjacent to these faults indicating they had synsedimentary movement. Fishtie contains iron formation within the Grand Conglomérat unit that consists of bands of nearly monomineralic to intermixed magnetite, ankerite, apatite, and quartz. Iron formation thickens towards normal faults suggesting the faults formed conduits for iron-rich hydrothermal solutions. The absence of iron formation clasts in the diamictite and presence of disseminated magnetite, ankerite, and apatite in adjacent diamictites suggests the iron formation formed by replacement of host rocks. Later hydrothermal alteration and mineralization at Fishtie overprinted the iron formation and affected the entire preserved sequence of Katangan sedimentary rocks and locally basement rocks. Copper mineralization at Fishtie is similar to that observed in some deposits of the Zambian Copperbelt where it has been attributed to interaction of an oxidized ore fluid with trapped natural gas. Copper precipitation was associated with both muscovite and chlorite mineralization, together with weak silicification. Copper sulfides at Fishtie display a relatively homogeneous distribution of generally heavy sulfur isotopic values that could have resulted from sulfide derivation from either a sour gas reservoir or thermochemical reduction of Neoproterozoic seawater sulfate.
Rights
Copyright of the original work is retained by the author.
Collections