Metal-insulator-metal diodes towards THz and optical energy harvesting: development of materials design principles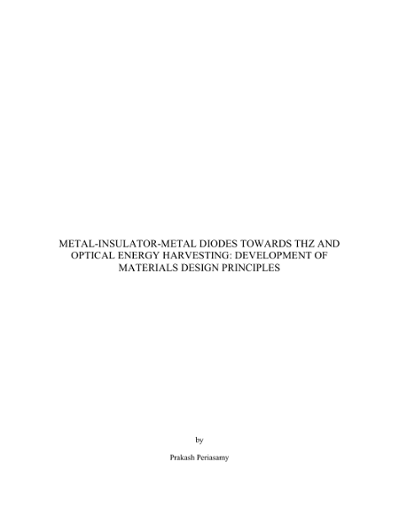 Name:
Periasamy_mines_0052E_10085.pdf
Size:
31.86Mb
Format:
PDF
Description:
Metal-insulator-metal diodes ...
Advisor
O'Hayre, Ryan P.
Ginley, D. S. (David S.)
Abstract
Metal-Insulator-Metal (MIM) structures are attractive candidates for high-frequency rectification applications such as THz imaging and sensors, and infrared/visible energy harvesting (rectenna) devices. This thesis develops materials selection principles to guide the choice of material pairs for MIM stacks with desired rectification performance. In particular, a first-of-its kind MIM materials space map is developed that correlates materials properties to rectification performance for different MIM combinations. The materials space diagram is generated based on systematic experimental studies that explore the role of both the metals and the insulator in the MIM stack in determining MIM device performance by evaluating the current-voltage response of a combinatorial set of MIM materials at low frequencies. A novel modified point-contact geometry is developed to rapidly examine a number of MIM material combinations. Material properties such as work function (Phi M) of the metals and electron affinity(Chi) of the insulator, as well as the thermodynamic chemical stability of the interface are identified as crucial elements for MIM materials selection. Investigations performed to identify the role of metals revealed that it is sufficient to choose the metals such that their [Delta Phi] is greater than ~ 300 meV to achieve desired rectification characteristics (high asymmetry and nonlinearity). Using the Nb/Nb2O5 bilayer as the model system, the asymmetry and the nonlinearity were found to be only weakly dependent [Delta Phi] above ~ 0.4 eV. A hypothesis is developed and tested that guides the insulator selection criteria. The proposed hypothesis states that, "to minimize the turn-on voltage and maximize asymmetry and nonlinearity, the electron affinity of the insulator should be close to one of the metal work function values so as to produce a low barrier height". Although the study validated the hypothesis across the material systems studied, preliminary experiments on two additional high potential MIM systems (Hf/TiO2/Pt and Sm/ZrOx/Pt) unexpectedly yielded much lower asymmetry and nonlinearity than predicted by the hypothesis. Thermodynamic and TEM cross-sectional analysis on these systems (Hf/TiO2 and Sm/ZrO2) revealed a critical observation that these interfaces are reactive even at RT and result in an interfacial compound (~ 3 nm thick). It is speculated that this reaction layer adversely influences the rectification performance. Thus it is proposed that in addition to choosing the materials based on their work function and electron affinity it is important to consider the thermodynamic stability of these interfaces as well. Band-offsets (electronic barrier height) at metal/insulator interfaces are measured via x-ray photoelectron spectroscopy (XPS). Band-diagrams constructed using the band-offset values agree well with their I-V response, verifying the proposed material design criteria. Measured electronic barrier height values are 0.1 (Nb2O5/Nb), 0 (Nb2O5/Ti), 0.6 (Nb2O5/Cu) and 0.6 eV(Nb2O5/Pt).
Rights
Copyright of the original work is retained by the author.
Collections