New nuclear West: uranium milling as community on Colorado's Western Slope, The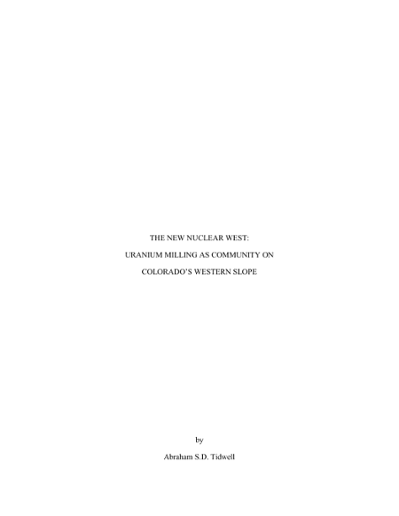 Name:
Tidwell_mines_0052N_10185.pdf
Size:
1.865Mb
Format:
PDF
Description:
The new nuclear West: uranium ...
Advisor
Schneider, Jennifer J.
Abstract
In mid-2007, Energy Fuels, a Toronto-based uranium mining and milling company, announced their intent to build Piñon Ridge, the first new conventional uranium mill in the United States in 30 years. The prospect of a return to uranium milling has mobilized community support to bring back an industry some see as both familiar and capable of supporting and growing their communities. Using transcripts generated during the Colorado Department of Public Health and Environment's public meetings and hearings during 2010 and 2012, this study examines how proponents of the mill frame the socioeconomic advantages of bringing the industry back. Applying Kinsella's bounded constitutive model of communication, this study shows that the community and the uranium mill are bound in a "sorge-enframing" duality where the care generated by each binds the other to the recalcitrant nature of the uranium industry and preconceived notions of socioeconomic development, respectively.
Rights
Copyright of the original work is retained by the author.
Collections