Penalty element separation from copper concentrates utilizing froth flotation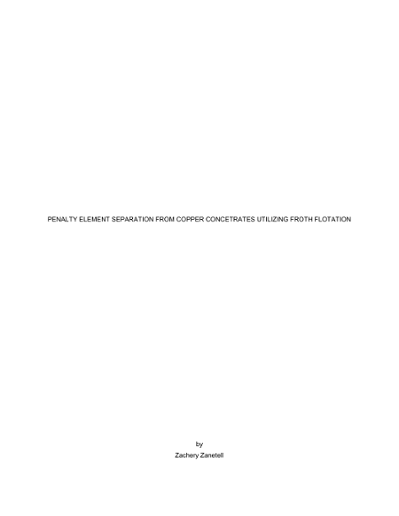 Name:
Zanetell_mines_0052N_10208.pdf
Size:
11.09Mb
Format:
PDF
Description:
Penalty element separation from ...
Advisor
Taylor, Patrick R.
Anderson, Corby G.
Abstract
The copper ores that are currently being considered for development and processing are lower in grade and contain higher amounts of deleterious elements, which create difficulty in achieving a final copper concentrate that meets current restrictions. This presents increasing challenges to the process metallurgists during project development as well as to presently operating mines and mills. This thesis will focus on the separation of the deleterious elements, also known as penalty elements, mainly bismuth and arsenic from a copper concentrate using froth flotation techniques. The ability to separate penalty elements from copper concentrates will directly benefit mining companies by creating a final copper concentrate that will result in fewer financial penalties from smelter refineries.
Rights
Copyright of the original work is retained by the author.
Collections