Processing, inversion, and interpretation of 9C-3D seismic data for characterizing the Morrow A sandstone, Postle field, Oklahoma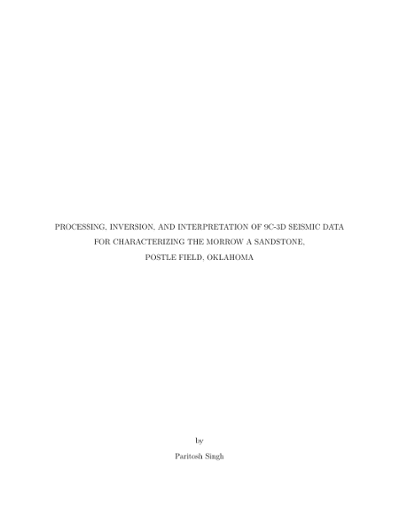 Name:
Singh_mines_0052E_10195.pdf
Size:
52.50Mb
Format:
PDF
Description:
Processing, inversion, and ...
Advisor
Davis, Thomas L. (Thomas Leonard), 1947-
Abstract
Detection of Morrow A sandstones is a major problem in the exploration of new fields and the characterization of existing fields because they are very thin and laterally discontinuous. The present research shows the advantages of S-wave data in detecting and characterizing the Morrow A sandstone. Full-waveform modeling is done to understand the sandstone signature in P-, PS- and S-wave gathers. The sandstone shows a distinct high-amplitude event in pure S-wave reflections as compared to the weaker P- and PS-wave events. Modeling also helps in understanding the effect of changing sandstone thickness, interbed multiples (generated by shallow high-velocity anhydrite layers) and sidelobe interference effect (due to Morrow shale) at the Morrow A level. Multicomponent data need proper care while processing, especially the S-wave data which are aected by the near-surface complexity. Cross-spread geometry and 3D FK filtering are effective in removing the low-velocity noise trends. The S-wave data obtained after stripping the S-wave splitting in the overburden show improvement for imaging and reservoir property determination. Individual P- and S-wave attributes as well as their combinations have been analyzed to predict the A sandstone thickness. A multi-attribute map and collocated cokriging procedure is used to derive the seismic-guided isopach of the A sandstone. Postle Field is undergoing CO2 flooding and it is important to understand the characteristics of the reservoir for successful flood management. Density can play an important role in finding and monitoring high-quality reservoirs, and to predict reservoir porosity. prestack P- and S-wave AVO inversion and joint P- and S-wave inversion provide density estimates along with the P- and S-impedance for better characterization of the Morrow A sandstone. The research provides a detailed multicomponent processing, inversion and interpretation work flow for reservoir characterization, which can be used for exploration in other parts of the world as well.
Rights
Copyright of the original work is retained by the author.
Collections