GIS-based landslide susceptibility analysis of southwestern Colorado Springs, El Paso County, Colorado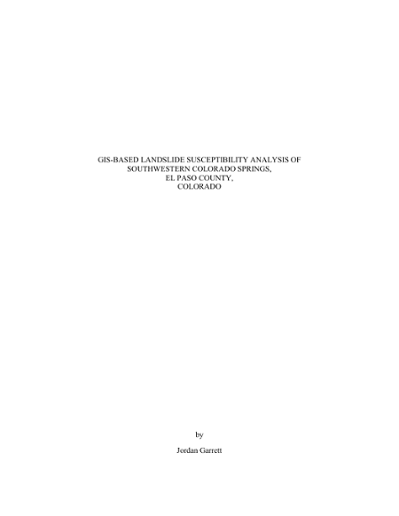 Name:
Garrett_mines_0052N_10210.pdf
Size:
4.079Mb
Format:
PDF
Description:
GIS-based landslide susceptibility ...
Abstract
Mass wasting processes occur worldwide. Mass wasting is defined as the down slope movement of rock and soil near the Earth's surface mainly due to gravity, which includes creep, landslides, debris flows, topples, and rock falls, each with their own characteristic features, and taking place over timescales ranging from seconds to years. Of these, landslides are known to be one of the most hazardous in that they often cause injuries, fatalities, and tremendous property damages. With its western portions located on the foothills of the Rocky Mountains, Colorado Springs, Colorado has proven to be highly susceptible to landslides which cause ongoing destruction of numerous hillside and mesa top developments. There has been minimal effort to produce landslide susceptibility maps for Colorado Springs, Colorado. The goal of this study are to perform Geographic Information System (GIS)-based landslide susceptibility analyses of a selected study area in southwestern Colorado Springs, Colorado using - One Dimensional (1D) Infinite Slope Analysis (ISA) and - Two Dimensional (2D) Bishop's Simplified Method of Slices (BSMS). This research has produced landslide susceptibility zonation maps, which, unlike those previously developed, display relative intensity of landslide susceptibility throughout the selected study area. The 1D and 2D methods yield comparable outputs. Both models indicate areas within the Broadmoor Bluffs and Broadmoor Oaks neighborhoods with high probabilities of Factors of Safety (FS) less than or close to 1.0 under three hypothetical groundwater conditions.
Rights
Copyright of the original work is retained by the author.
Collections