Dynamic reservoir characterization using 4D multicomponent seismic data and rock physics modeling at Delhi field, Louisiana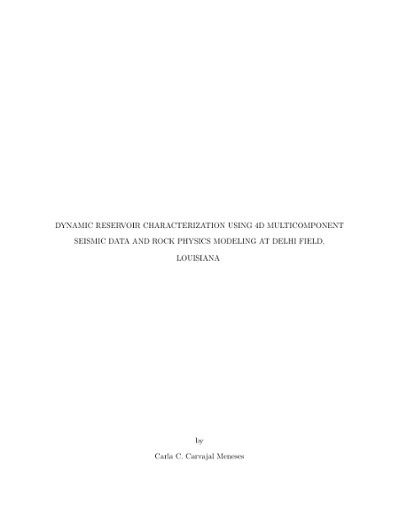 Name:
CarvajalMeneses_mines_0052N_10 ...
Size:
9.776Mb
Format:
PDF
Description:
Dynamic reservoir characterization ...
Advisor
Davis, Thomas L. (Thomas Leonard), 1947-
Abstract
Pore pressure and CO2 saturation changes are important to detect and quantify for maximizing oil recovery in Delhi Field. Delhi Field is a enhanced oil recovery (EOR) project with active monitoring by 4D multicomponent seismic technologies. Dynamic rock physics modeling integrates the rich dataset of core, well logs, petrographic thin sections and facies providing a link between reservoir and elastic properties. The dynamic modeling in this high porosity sandstone reservoir shows that P-wave velocity is more sensitive to CO2 saturation while S-wave velocity is more sensitive to pore pressure changes. I use PP and PS seismic data to jointly invert for Vp/Vs ratio and acoustic impedance. This technique has the advantage of adding more information to the non-unique inversion problem. Combining the inversion results from the monitor surveys of June 2010 and August 2011 provides acoustic impedance and Vp/Vs percentage differences. The time-lapse inverted response enables dynamic characterization of the reservoir by fitting the predicted dynamic models (calibrated at the wells). Dynamic reservoir characterization adds value in this stratigraphic complex reservoir. The results indicate that reservoir heterogeneities and pore pressure gradients control the CO2 flow within the Paluxy reservoir. Injectors 148-2 and 140-1 showed CO2 is moving downdip following a distributary channel induced by differential pressure from an updip injector or a barrier caused by a heterogeneity in the reservoir. CO2 anomalies located above the Paluxy injector 148-2 indicates that CO2 is moving from the Paluxy up into the Tuscaloosa Formation. My work demonstrates that reservoir monitoring is necessary for reservoir management at Delhi Field.
Rights
Copyright of the original work is retained by the author.
Collections