Multiphase wide gap braze alloys for the repair of nickel-base superalloy turbine components: development and characterization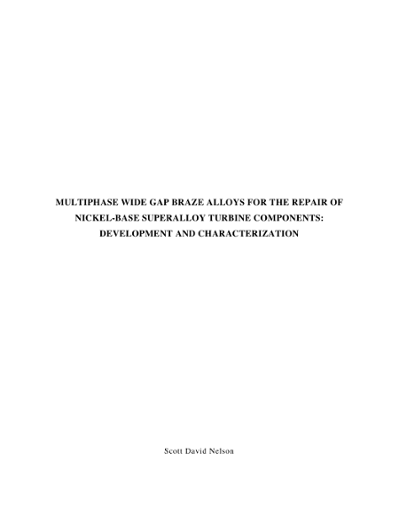 Name:
Nelson_mines_0052N_10227.pdf
Size:
19.97Mb
Format:
PDF
Description:
Multiphase wide gap braze alloys ...
Abstract
Gas turbine components made of nickel-base superalloys experience cracking after service in extreme environments. As these cracks can be wide, brazing or fusion welding is typically used to repair them. Properly designed and applied, brazing filler metal will help extend the useful life of damaged turbine components. During repair of defective OEM parts, brazing is also considered, provided that proper filler metals with enhanced ductility and improved resistance to low-cycle fatigue are available. This research strives to develop the brazing technique and alloys to achieve a repair with acceptable mechanical properties. Additionally, the effects of silicon and boron, as fast diffusing and melting point suppressing elements on the braze microstructure and mechanical properties were examined in detail to help guide future alloy development. Three commercially available "low-temperature" brazing powders were mixed with an additive superalloy powder to prepare a series of filler metals for wide gap brazing used to repair OEM gas turbine components. BNi-2 (Ni-7Cr-4.2Si-3B-3Fe), BNi-5 (Ni-19Cr-10Si) and BNi-9 (Ni-15Cr-3.5B) were mixed with MARM247 (Ni-10W-10Co-8.25Cr-5.5Al-3Ta-1Ti-0.7Mo- 0.5Fe-0.015B) at ratios of 40, 50, and 60 wt. pct. creating a total of nine experimental filler alloys. The brazes were applied to a 0.06 inch gap in a René 108TM substrate for mechanical and microstructural analysis. The wettability and flow of each of the experimental alloys were analyzed to determine the required brazing temperature through isothermal spreadability experiments. Bend testing was performed on brazed joints to determine their mechanical properties and maximum angular deflection. The metallurgical driving factors, such as solidification behavior and compositional effects, were analyzed to correlate the resulting microstructural constituents to the mechanical properties developed through experimentation. It was found that because of the solid solubility of silicon into nickel, greater amounts of single-phase nickel formed surrounding the additive superalloy powder in the brazes containing silicon when compared with brazes without. This effect is advantageous, as it was found that the increase in the additive powder interaction zones resulted in a beneficial increase in mechanical properties, such as strength and percent strain at failure. Alloys containing boron required a lower processing temperature than alloys containing silicon and are good candidates for use in the process if enough time is given for the boron to diffuse into the parent material and therefore encouraging isothermal solidification, disallowing the formation of mechanically detrimental ternary eutectic boride phases. The BNi-2 alloy, containing both boron and silicon, exhibited the beneficial behaviors of heightened interaction between the liquid braze alloy and the additive powder, in addition to the decreased brazing temperature required.
Rights
Copyright of the original work is retained by the author.
Collections