Fundamental studies into zirconium modified phosphonic acid based ionic membranes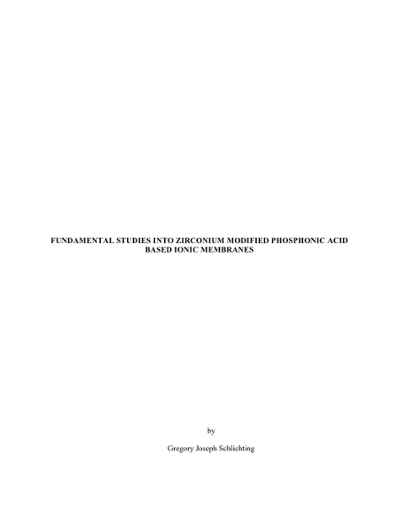 Name:
Schlichting_mines_0052E_10247.pdf
Size:
2.448Mb
Format:
PDF
Description:
Fundamental studies into zirconium ...
Advisor
Herring, Andrew M.
Abstract
The demand for a sustainable energy economy requires the development of new solid stare electrochemical energy conversion devices. Ionic membranes are the bases for most of these devices. Solid super acids based on zirconium phosphonates show great promise for development into these membranes. Copolymers of vinyl phosphonic acid with zirconium vinyl phosphonate have been synthesized via UV free radical polymerization from immiscible mixtures into amorphous, transparent, water stable, flexible membranes. Ion exchange capacities range from 6 to 10 meq/g corresponding to equivalent weights well below 200 g/mol. A 20wt% loading of the VZP co-monomer is XRD amorphous. It is shown that 1.5 of the 2 protons in the beginning acidic groups are dissociated in the 20wt% VZP loaded ionomer allowing these materials to have high proton conductivities, up to and exceeding 0.1 S cm-1 at 80°C and 80%RH. Water uptake measurements show very little swelling of the material below 70%RH and ca. 1 water per proton at low RH. Proton conductivity under dry conditions, roughly 0.05 S cm-1 with a lambda < 1, indicates that the material conducts protons under limiting hydration conditions and strongly implicates transport by a pure Grotthuss mechanism. Through this work, it has been demonstrated that zirconium vinyl phosphonate can, in fact, be dispersed and incorporated into a polymer to create new, hybrid organic-inorganic ionomers. High conductivities over 0.15 S/cm have been shown for multiple formulations of these ionomers, which is approaching conductivities that are comparable to liquid and molten phosphoric and phosphonic acids. Phosphonic acid functionalization yielded high proton conductivities, however the increased ionic character rendered the ionomer vulnerable to attack from water. Annealing provides a rise in conductivity at 150 degrees Celsius, but shows decreases after heating to 175 degrees Celsius, where the ionomer is obviously starting to degrade.
Rights
Copyright of the original work is retained by the author.
Collections