Parameter estimation in physical model: a comparison between Bayesian and frequentist methods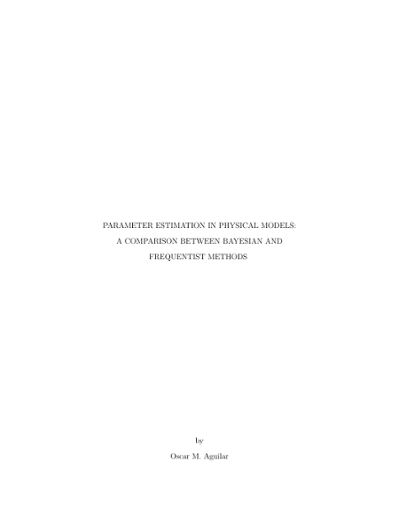 Name:
Aguilar_mines_0052N_10207.pdf
Size:
729.4Kb
Format:
PDF
Description:
Parameter estimation in physical ...
Abstract
A mathematical/physical model is a mathematical description of a system or physical experiment. A model may help to explain a system or experiment, or to make future predictions. Most of the real-life mathematical/physical models depend on parameters that need to be estimated. Parameter estimation techniques use mathematical/physical model of the system under consideration and physical measurements to infer numerical values of the parameters of interest. In this project, we are interested in estimating the gravity constant and the specific coefficient of air resistance in the equation describing a falling body. A physical experiment was conducted at Texas A and M University. In the experiment, a body was dropped from a known height and the free fall was recorded for one second using a video camera. The video recording was analyzed frame by frame to obtain the distance the body had fallen as a function of time, as well as measures of uncertainty in the data. We consider two approaches to estimate the parameters of interest: Bayesian and non-Bayesian techniques. The goal of this thesis is to complement Allmaras et al. (2012) work by providing a careful validation analysis of the assumptions and to show the use of non-Bayesian methods for parameter estimation.
Rights
Copyright of the original work is retained by the author.
Collections