Nanostructured materials and their role as heterogeneous catalysts in the conversion of biomass to biofuels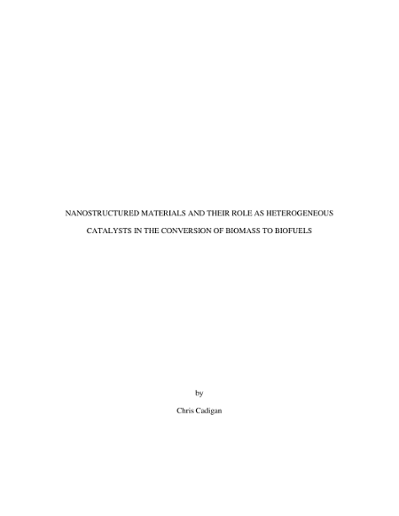 Name:
Cadigan_mines_0052E_10231.pdf
Size:
8.226Mb
Format:
PDF
Description:
Nanostructured materials and ...
Abstract
Prior to the discovery of inexpensive and readily available fossil fuels, the world relied heavily on biomass to provide its energy needs. Due to a worldwide growth in demand for fossil fuels coupled with the shrinkage of petroleum resources, and mounting economic, political, and environmental concerns, it has become more pressing to develop sustainable fuels and chemicals from biomass. The present dissertation studies multiple nanostructured catalysts investigated in various processes related to gasification of biomass into synthesis gas, and further upgrading to biofuels and value added chemicals. These reactions include: syngas conditioning, alcohol synthesis from carbon monoxide hydrogenation, and steam reforming ethanol to form higher hydrocarbons. Nanomaterials were synthesized, characterized, studied in given reactions, and then further characterized post-reaction. Overall goals were aimed at determining catalytic activities towards desired products and determining which material properties were most desirable based on experimental results. Strategies to improve material design for second-generation materials are suggested based on promising reaction results coupled with pre and post reaction characterization analysis.
Rights
Copyright of the original work is retained by the author.
Collections