Measurement and interpretation of porosity and pore-size distribution in mudrocks: the hole story of shales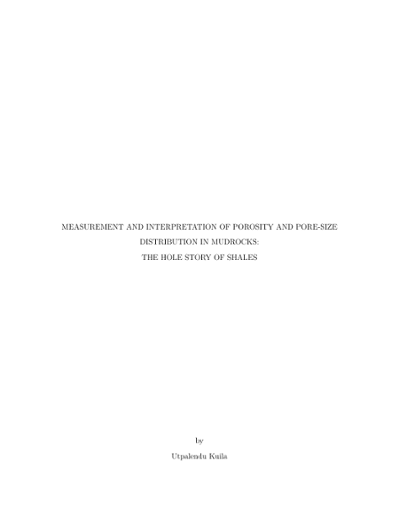 Name:
Kuila_mines_0052E_10232.pdf
Size:
11.64Mb
Format:
PDF
Description:
Measurement and interpretation ...
Advisor
Prasad, Manika
McCarty, Douglas K.
Abstract
The commercial success of unconventional mudrock plays have stimulated interest in understanding their pore-structure. Recent development of imaging techniques have provided valuable insights about the nanometer scale pore structure in the mudrocks, however, quantification of this pore structure still remains a challenge. Both, current industry adopted GRI technique of measuring total porosity and the pore-size distribution (PSD) measurement using commonly used mercury intrusion porosimetry technique have serious limitations. The focus of this thesis was to develop a quantitative understanding of the mudrock pore structure by developing mudrocks' specific porosity and PSD measurement techniques and correlating the pore-structure attributes with composition. Two measurement techniques were adapted and modified for measuring porosity and PSD in mudrocks. (i) A total porosity measurement technique in intact mudrock core sample using an immersion-saturation technique with deionized water is developed. This water immersion porosimetry (WIP)technique gave reproducible porosity measurements for mudrocks with an absolute experimental uncertainty of about 0.2-0.3 porosity unit (p.u.). (ii) Nitrogen gas adsorption techniques was adapted for pore-size distribution analysis of mudrocks. Crushed (less than 40 mesh) powder is recommended for such analysis. Inversion of pore-structure attributes of the isotherm data using different inversion model and algorithm yields non-unique results. The inversion method should be kept consistent for comparative purpose. The BJH model was recommended for mudrock applications. The pore-structure of two important compositional end members of a mudrock system, clays and organic matter, were studied using a combination of different sample treatment procedure. The results on pure clay minerals characterized the pore-structure associated with their multiscale stacked microstructure. The most characteristic feature of a clay PSD is the presence of incompressible pores with a modal size of 3nm. The results on organic matter indicate absence of open porosity in thermally immature organic matters. Removal of organic matter from thermally mature mudrocks indicated presence of open pores less than 5 nm diameter. For all natural mudrocks, the clay microstructure is the fundamental control in fine-scale pore structure attributes. The PSD of natural mudrocks show the characteristics 3 nm modal peak indicative of the clay pore-structure. Part of the organic matter in the mudrocks occupies the pore space within the clay microstructure. Thermally immature organic matter (OM) does not show evidence of open porosity but fine scale pore structure is seen to develops in OM with thermal maturation. Presence of carbonate cementation can affect the pore connectivity in the mudrocks both in microscopic and macroscopic scales. The quantitative measurements and understanding of pore structure in mudrocks have different implications in developing exploration strategies, rock-physics, petrophysics and flow modeling for mudrock reservoirs. The work performed in this thesis has provided two pore structure attribute measurement techniques applicable for mudrocks and enhanced our understanding of mudrock pore-structure.
Rights
Copyright of the original work is retained by the author.
Collections