Numerical analysis of homogenization using random finite element method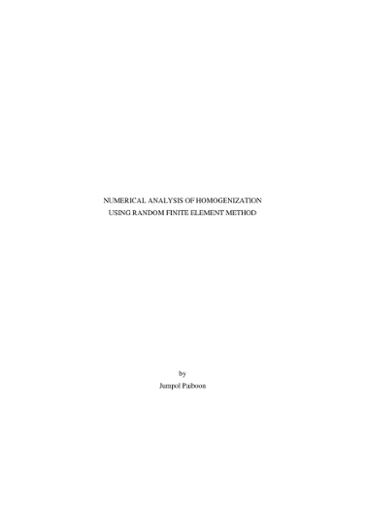 Name:
Paiboon_mines_0052E_10238.pdf
Size:
13.74Mb
Format:
PDF
Description:
Numerical analysis of homogeni ...
Abstract
The homogenized stiffness and permeability of geomaterials that are highly variable at the micro-scale has long been of interest to geotechnical engineers. This is especially true in petroleum geomechanics, where there has been a rapid growth of interest in the mechanics of unconventional resource extraction. The purpose of this study is to investigate the influence of porosity and void size on the equivalent or effective properties of geomaterials. The effective value is defined as the property that would have led to the same response if the geomaterial had been homogeneous. A random finite element method (RFEM) has been developed involving an ideal block of material leading to direct evaluation of the effective properties. The approach involves a combination of finite element analysis, random field theory and Monte-Carlo simulation. The random field theory is used to generate models of geomaterials containing spatially random voids with controlled porosity and void size. Following Monte-Carlo simulations, the mean and standard deviation of the effective property can be estimated leading to a probabilistic interpretation involving flow or deformations. The methodology is tested in geotechnical problems involving foundation settlement and seepage in materials containing voids, enabling estimates to be made of the probability of excessive design values. The thesis also includes an investigation of the size of the representative volume element (RVE), and a comparison of the effective properties of 2D and 3D models with isotropic and anisotropic void characteristics.
Rights
Copyright of the original work is retained by the author.
Collections