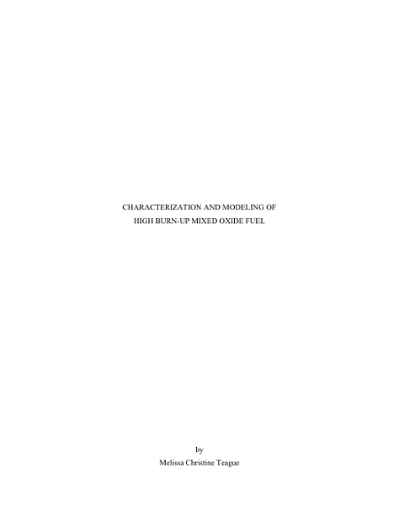 Name:
Teague_mines_0052E_10214.pdf
Size:
6.661Mb
Format:
PDF
Description:
Characterization and modeling ...
Advisor
King, Jeffrey C.
Gorman, Brian P.
Abstract
Currently, fast reactor performance is largely constrained by the limitations of the materials involved in these reactors. The fuel is particularly limiting due to fission gas generation, changes in thermal conductivity, microstructure changes within the fuel, fuel swelling, and fuel-cladding chemical interaction (FCCI). Highly irradiated fuel is radially inhomogeneous in composition, microstructure, and temperature. In this work, high burn-up mixed oxide fuel with local burn-ups of 3.4-23.7% FIMA were destructively examined as part of a research project to understand the performance of oxide fuel at extreme burn-ups. Optical metallography, transmission electron microscopy and electron back-scatter diffraction were performed to further study the microstructure and chemical composition of the irradiated fuel. The optical micrographs were used to generate finite-element meshes in order to model the effective thermal conductivity of the irradiated fuel as a function of burn-up, radial position, and temperature. The fuel-to-cladding gap closed significantly in samples with burn-ups below 7-9% FIMA. Samples with burn-ups in excess of 7-9% FIMA had a reopening of the fuel-to-cladding gap and evidence of joint oxide-gain formation. Additionally, high burn-up structure was observed in the two highest burn-up samples (23.7 and 21.3% FIMA). The microstructural modeling of the effective thermal conductivity found close (10-20%) agreement between the calculated effective thermal conductivities and the semi-empirical based analytical models, validating the finite-element mesoscale approach to microstructural modeling of effective thermal conductivities in irradiated fuel.
Rights
Copyright of the original work is retained by the author.
Collections