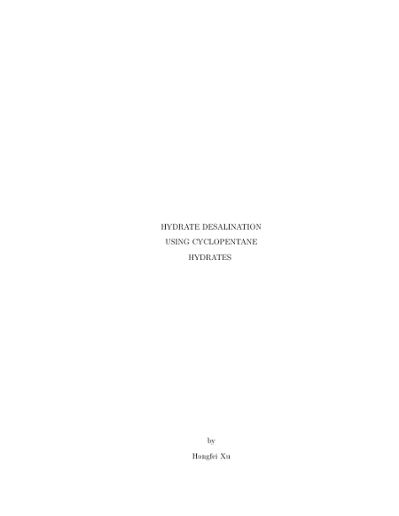 Name:
Xu_mines_0052N_10198.pdf
Size:
21.42Mb
Format:
PDF
Description:
Hydrate desalination using ...
Advisor
Koh, Carolyn A. (Carolyn Ann)
Sum, Amadeu K.
Abstract
The shortage of fresh water has been a critical issue in many regions of the world and will be increasingly important in the future. Traditional desalination methods, such as the distillation method, consume large amounts of energy and the cost for producing water is high. The idea of desalination via hydrate formation is not novel. However, it still needs more study to understand the process and to decrease the cost. In addition, some of the fundamentals for hydrate desalination are the same as for other hydrate-based technologies, such as wastewater purification, gas separation, and refrigerant systems. This thesis presents the fundamental components of a hydrate-based desalination process using cyclopentane (CyC5) hydrates, which can be formed at atmospheric pressure. Nucleation was studied for its rapid hydrate formation in bottles and in a vertical condenser. Experiments in bottles showed that the CyC5 in water emulsion method could create 5- 35 microns CyC5 droplets. Initially it was assumed that these small droplets would promote hydrate nucleation, as they provide a larger area to volume ratio. However, it was observed that no hydrate nucleate formed before the emulsion was broken. Hydrates nucleated and formed very quickly if ice or hydrate seeds were added. The column reactor compared five nucleation and formation methods: the presence of copper wire, agitation with copper wire, ice or CyC5 hydrate seeding, seeding + copper wire, and agitation with copper wire+ seeding. The hydrate formation was accelerated when the ice or CyC5 seeding method was applied. Hydrate formation was studied using two reactors: a vertical condenser and a scaled-up pipe-in-pipe column reactor. Two CyC5 injection methods were studied for these experiments: injection through thin needles (or tubing) and injection through a spray nozzle. The effects of temperature, agitation speed and annealing time on hydrate formation are investigated. It was found that lower operating temperature (0.1 degree C above the salt solution freezing point), higher agitation speed, eight hours annealing time, and smaller CyC5 droplets created by the spray method enable higher water conversion into hydrates. Separation of hydrates and salt solution from concentrated hydrate slurries was the key to increasing desalination efficiency. Three steps of water removal were performed: gravitational separation, vacuum filtration, and washing. The salinity of the hydrate phase after these three treatments can be reduced from 3.5 wt% to 0.67 wt%. Hydrate volume fraction and the mass ratio between filtrated solution and hydrate phase are used to explain the results and phenomena in the experiments. A multi-stage reaction-filtration process is investigated to produce fresh water. The filtration step is very important. Better filtration operation can reduce the number of stages. The effect of initial salinity on water conversion was studied. Using the set-up developed in this thesis, the relationship between the initial salinity and the water conversion was observed to be linear. Finally, the change in hydrate morphologies during hydrate formation and salt solution removal was studied. The relationship between hydrate morphology and hydrate volume fractions was discovered.
Rights
Copyright of the original work is retained by the author.
Collections