On the interplay between scaling small-scale reactions, mixing, and aquifer heterogeneity: human health risk implications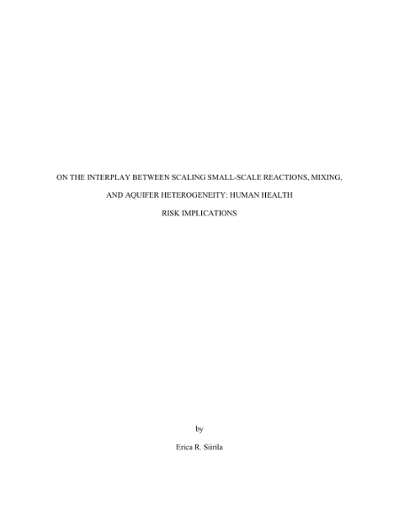 Name:
Siirila_mines_0052E_10191.pdf
Size:
25.12Mb
Format:
PDF
Description:
On the interplay between scaling ...
Abstract
Given the rising number of groundwater contamination scenarios involving reactive solutes, understanding fundamental interactions between aquifer heterogeneity and solute transport is crucial in assessing human health risk. Aquifer heterogeneity is known to affect solute characteristics such as spatial spreading, mixing, and residence time, all of which may influence solute concentrations. Dispersion resulting from different scales of heterogeneity is examined, ranging from the local scale (sub-grid dispersion as small as a millimeter) to the regional scale (macrodispersion due to advection as large as tens of kilometers). Finely discretized, large extent aquifers are simulated stochastically to test for parameter sensitivity and to quantify uncertainty. Stochastic numerical simulations allow the flexibility to perform controlled experiments across a range of spatial and temporal scales, and are especially advantageous when applied to probabilistic risk assessment where statistically analyzing environmental conditions can be used to inform risk management decisions. For example, by varying the spatial persistence patterns of aquifer material, feedbacks between the degree of statistical anisotropy (i.e. aquifer stratification) and plume migration are observed and quantified. I demonstrate that both the degree of statistical anisotropy and the model of heterogeneity have significant impacts not only on uncertainty quantification of solute travel time and concentration parameters, but also uncertainty quantification of human health risk. Results show that the impact of local and small-scale reactions (such a kinetic sorption) up-scale and affect far field plume behavior, where the impact is largely a function of larger, maco-scale heterogeneities. The development of a framework for time dependent risk assessment (TDRA) is also presented, and highlights how hydro-geologic processes can be used to inform a risk assessment. In contrast to traditional, time independent assessments of risk, this new formulation relays information on when the risk occurs, how long the duration of risk is, and how risk changes with time. These results are especially pertinent for forecasting risk in time, and for risk assessors and managers who are assessing the uncertainty of risk. Finally, the communication difficulties in conveying technical information in post-normal science are discussed using the example of hydraulic fracturing, or fracking. The use of documentaries in opposing information campaigns is used as an illustration. In this example we show that these techniques, and specifically the focus on a "data battle" prevent a constructive dialogue between not only the opposing information campaigns within a debate, but also between the public and scientists or technical experts.
Rights
Copyright of the original work is retained by the author.
Collections