Determination of the non-recrystallization temperature (TNR) in multiple microalloyed steels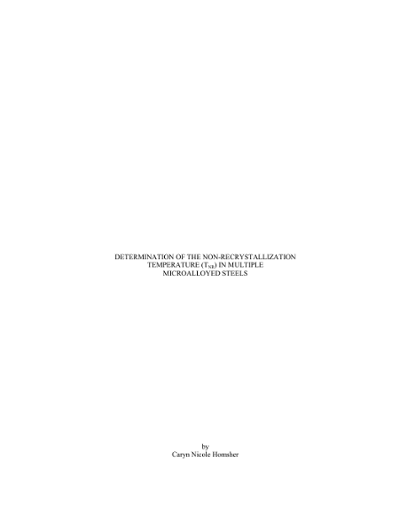 Name:
Homsher_mines_0052N_10187.pdf
Size:
7.207Mb
Format:
PDF
Description:
Determination of the non-recry ...
Abstract
Rolling mill metallurgists must be able to easily and accurately determine critical temperatures such as the non-recrystallization temperature (TNR) to properly plan rolling schedules for desired properties. Microalloyed steels have small additions of alloying elements such as V, Ti, and Nb, to improve mechanical properties through grain size control and precipitation strengthening. The value of TNR is based on both alloying elements and deformation parameters. To easily predict TNR, equations have been developed and utilized in the literature and industry. However, each equation has certain limitations which constrain its applicability. This study was completed using ten laboratory grade low-carbon microalloyed steels designed to meet the API X-70 specification with varying amounts of V, Nb, and Ti. Double-hit deformation tests were conducted on a Gleeble® 3500 system in the standard pocket-jaw configuration at the Colorado School of Mines to determine experimental values of TNR. Double-hit deformation tests involve cylindrical specimens in an axisymmetric compression test. The test method requires six steps: 1) reheat to ensure most precipitates dissolve back into solution, 2) cool to deformation temperature, 3) compress with given strain and strain rate, 4) hold for interpass time, 5) deform specimen again holding everything else constant, and 6) measure the percent recrystallized or percent fractional softening. The TNR is the temperature where fractional softening is equal to 20 %. Niobium plays the largest role in influencing TNR. Complex niobium-vanadium-carbonitride precipitates are believed to play a significant role increasing TNR in the Hi-V alloy The experimental values of TNR were compared with predicted values of TNR from four equations in the literature. The Bai 2011 equation was the most reliable of the existing empirical formulas considered, while the commonly used Boratto equation was not accurate in predicting the TNR for the alloys in this study. The Bai 2011 equation is a reasonable estimator for TNR for the steels in this study. The Boratto equation ignores the effects of N and has consistently high predictions of TNR for the steels investigated.
Rights
Copyright of the original work is retained by the author.
Collections