Fracture strength of the SiC layer in TRISO coated fuel particles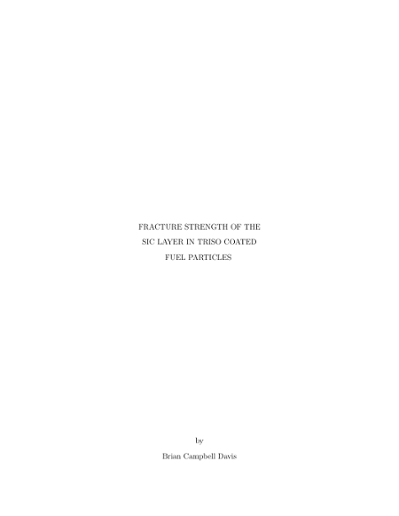 Name:
Davis_mines_0052N_10098.pdf
Size:
2.049Mb
Format:
PDF
Description:
Fracture strength of the SiC ...
Advisor
Reimanis, Ivar E. (Ivar Edmund)
Berger, John R.
Abstract
The SiC layer in the TRISO coating of next generation nuclear fuel particles is a structural element which ensures the containment of fissile products, thus forming the basis of the safety rationale for the reactor. Due to the inherent variability in ceramics, which can be affected by different manufacturing methods, application substrates, and geometries; it is important to characterize the fracture strength of this application specific ceramic. Hence, diametrical compression tests were performed on a sample population of SiC hemispheres, which were made from actual TRISO coatings. Multiple numerical analysis methods were used to design the test, understand the mechanics involved, and ultimately determine values for fracture strength. For an initial sample population of 8 hemispheres, the characteristic strength and Weibull modulus were 487 MPa and 4.0, respectively. Sensitivity analyses revealed that divot radius is the most important variable, followed by shell thickness and outside radius. The additional holistic results of this research are theoretical and experimental methodology improvements which constitute a value added step forward in destructive TRISO coated nuclear fuel particle testing.
Rights
Copyright of the original work is retained by the author.
Collections