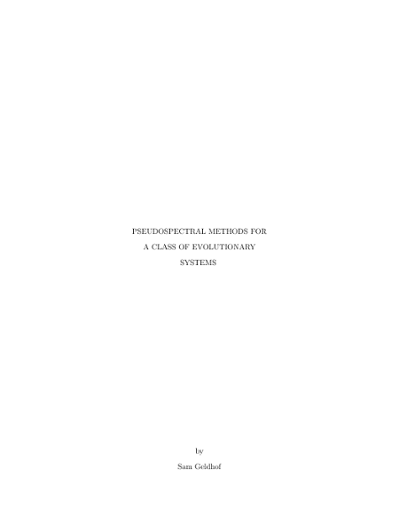 Name:
Geldhof_mines_0052N_10177.pdf
Size:
1.336Mb
Format:
PDF
Description:
Pseudospectral methods for a ...
Advisor
Ganesh, Mahadevan
Abstract
Mathematical and computer modeling of various physical processes typically involve evolutionary systems which are a class of time dependent partial differential equations. Exact solutions to many of these evolutionary systems are not known in general and a variety of numerical methods have been proposed to simulate the solutions of these problems. In this thesis, we approximate the solution of evolutionary systems using the method of lines in which we separately discretize our problem in space and in time. The spatial discretization is done using a class of high order Fourier spectral Galerkin methods with quadrature, also known as Fourier pseudospectral methods. Many evolutionary systems that we will be concerned with contain quadratic nonlinear terms, causing aliasing affects. We consider two techniques to resolve the affects of aliasing. The spatial discretization reduces the problem to a system of ordinary differential equations in time which we solve using standard numerical techniques. Many of these systems are stiff and therefore we also consider the stability of our numerical solvers and consider some implicit methods. In order to obtain accurate solutions for many problems, we must calculate a large number of Fourier coefficients, leading to impractical computation times. Therefore, we seek methods that allow us to calculate more Fourier modes in a computationally inexpensive manner. The algorithms developed and implemented in this thesis are based on the high order pseudospectral Galerkin method with quadrature in space and various implicit and explicit discretization techniques in time.
Rights
Copyright of the original work is retained by the author.
Collections