CO2-induced metal release from sandstones: implications for geologic carbon sequestration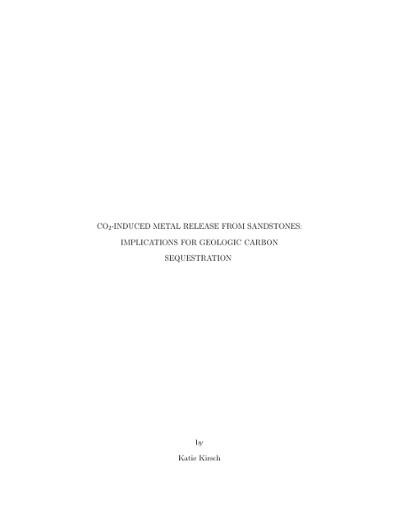 Name:
Kirsch_mines_0052N_10171.pdf
Size:
1.463Mb
Format:
PDF
Description:
CO2-induced metal release from ...
Advisor
Navarre-Sitchler, Alexis K.
Abstract
Leakage of CO2 from a deep storage formation into an overlying potable aquifer may mobilize trace metals to concentrations that exceed the Maximum Contaminant Levels (MCLs) permitted in drinking water by the U.S. EPA. Understanding CO2-water-rock interactions is therefore an important step toward the safe implementation of geologic carbon sequestration. This study targeted the geochemical response of siliclastic rock, specifically three sandstones of the Mesaverde Group in northwestern Colorado. Two batch experiments were conducted in which samples were reacted for 4 weeks with water and CO2 at partial pressures of 0.01 and 1 bar, representing natural background levels and levels expected in an aquifer impacted by a small leakage, respectively. Concentrations of major (e.g., Ca, Mg) and trace (e.g., As, Ba, Cd, Fe, Mn, Pb, Sr, U) elements increased rapidly after CO2 was introduced into the system, but the regulatory limits for those known to cause health problems were never exceeded. Results of sequential extraction suggest that carbonate minerals, although volumetrically insignificant in the sandstone samples, are the dominant source of mobile metals. A simple kinetic model of CO2-induced calcite and dolomite dissolution could reproduce the experimentally observed increases in Ca and Mg, as well as Fe, Mn, and Sr when included as mineral impurities. Knowing the distribution and chemical composition of these fast-reacting minerals may therefore aid in assessing risk to fresh water resources overlying potential CO2 sequestration sites.
Rights
Copyright of the original work is retained by the author.
Collections