Production of elemental sulfur and bentonite clay granules in a rotary drum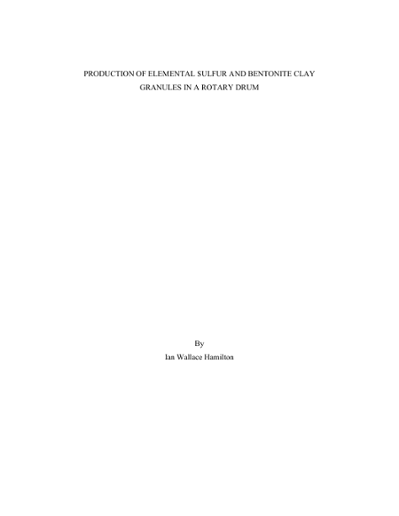 Name:
Hamilton_mines_0052N_10091.pdf
Size:
2.013Mb
Format:
PDF
Description:
Production of elemental sulfur ...
Abstract
Biological oxidation of sulfur granules is a critical component in elemental sulfur fertilizers since it converts sulfur to plant available sulfate. The level of biological oxidation is, in turn, regulated by the size and surface area of the sulfur granules. The aim of this research was to produce coarse sulfur granules that disintegrate to the correct particle size for biological oxidation, as well as the correct size for ballistic distribution from a spreader. Thus the interaction between mineral powders such as serpentine rock was investigated to get a better understanding of how these types of minerals react at different size fractions in granulation. Sulfur granules were developed from mixtures of 10% sodium bentonite clay with molten elemental sulfur. This was accomplished by sprayed a mixture bentonite and elemental sulfur into a falling curtain of fine material powder within a rotating drum. When comparing the seed materials, the serpentine rock showed sufficiently lower electrostatic build-up than phosphate rock. Serpentine rock also appears to help facilitate the disintegration of the granules when they are exposed to water. The outcome of the research was that it is possible to make a granulated sulfur fertilizer that had the correct size fraction and disintegration characteristics suitable for agronomic use.
Rights
Copyright of the original work is retained by the author.
Collections