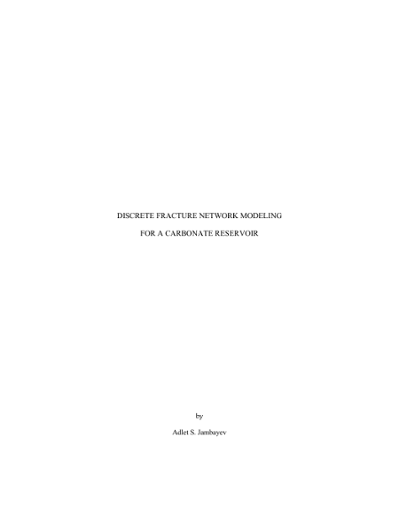 Name:
Jambayev_mines_0052N_10169.pdf
Size:
4.132Mb
Format:
PDF
Description:
Discrete fracture network modeling ...
Abstract
"Field X" is a naturally fractured reservoir, part of a large system of carbonate reservoirs located in North Caspian basin in western Kazakhstan. Predicting the movement of hydrocarbons in such reservoir is challenging because of the many uncertainties due to the complicated fracture network and the heterogeneity of carbonate rock. Due to uncertainties involved in modeling fluid flow, discrete fracture network (DFN) models are constructed for a free well section of "Field X". Building realistic and representative models of fracture networks can improve reservoir characterization and make more accurate flow prediction. Fracture parameters such as intensity, size, shape, and orientation are assigned to each fracture based on measured data or relevant statistical distribution derived from the measured data. Well test results using constructed DFN models and results of actual test are compared. The main matching involves skin effect and transmissibility. The DFN model is then upscaled that obtains fracture properties including porosity, permeability, and sigma factor suitable for a flow simulation model. This ensures that the upscaled DFN model preserves the properties of actual fractures in the studied sector. Predictions of well's long term productivity and pressure response are valuable inputs to main business decision and reservoir management strategies. Well-C was suspended due to high water cut (up to 60%) shortly after putting it on production. One concern of this trend is that the water seen at Well-C might end up at nearby wells. The objective of dynamic analysis was to predict potential water flow from the aquifer through the fractures to the producing wells. Many different scenarios are simulated with different water influx rate and different DFN models, which show the wide range of water breakthrough time (from 16 to 161 months) and cumulative water (from 7907 to 978718 bbl) in the producing wells.
Rights
Copyright of the original work is retained by the author.
Collections