Surface integral equation based derivation and algorithm for simulating vesicle flows in three dimensions, A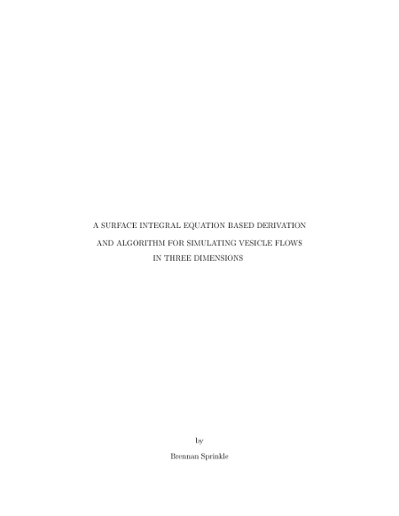 Name:
Sprinkle_mines_0052N_10167.pdf
Size:
1.176Mb
Format:
PDF
Description:
A surface integral equation based ...
Advisor
Ganesh, Mahadevan
Martin, P. A.
Abstract
We present a method for simulating the evolution of inextensible vesicles suspended in a Stokesian fluid flow. The flow model problem is reformulated as a coupled system of integro-differential equations relating the evolution of the vesicle membrane to the interfacial forces. Variational techniques are applied to derive an exact form for the interfacial forces on the vesicle. A super algebraic algorithm is presented to numerically evaluate weakly singular integrals which arise in the development of the simulation. Discretization of our coupled system of integro-differential equations is done using a fully discrete Galerkin method in space and an explicit scheme in time. This approach yields a high--order spatially accurate solution with relatively few degrees of freedom. Numerical results are given to demonstrate the effectiveness of the reformulation and the high-order algorithm.
Rights
Copyright of the original work is retained by the author.
Collections