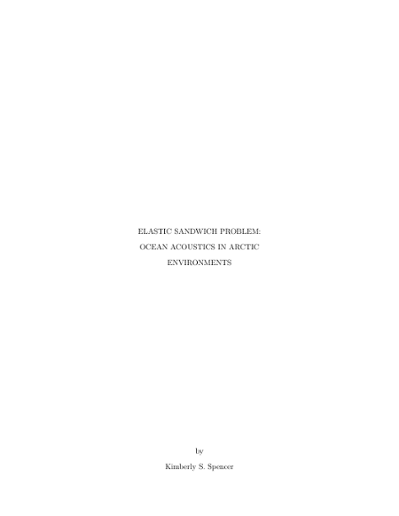 Name:
Spencer_mines_0052N_10163.pdf
Size:
1.347Mb
Format:
PDF
Description:
Elastic sandwich problem: ocean ...
Abstract
Studying sound propagation in Arctic environments has been a challenge for many disciplines, where it is essential to marine mammal conservation studies, oil exploration, naval studies, and many other fields. The Arctic environment involves a finite elastic ice layer as the upper boundary of the ocean acoustic waveguide and an elastic half-space seafloor as the lower boundary. An analytic normal mode solution for the problem of ocean acoustic propagation in this waveguide is found and then simulated numerically. The solution is benched marked against a parabolic equation solution for the case of a sound source in the water. A solution to the elastic sandwich problem is then found and computed for when the source is located in the ice layer to simulate ice cracking.
Rights
Copyright of the original work is retained by the author.
Collections