Assessing residential building energy simulation accuracy through the use of clustering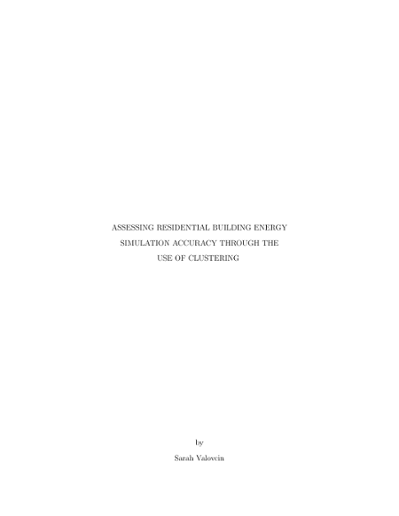 Name:
Valovcin_mines_0052N_10161.pdf
Size:
1.245Mb
Format:
PDF
Description:
Assessing residential building ...
Advisor
Hering, Amanda S.
Abstract
Residential building energy simulation software plays an important role in evaluating the energy consumption and efficiency of residential homes. The goal of this project is to analyze the accuracy of the residential building energy simulation (RBES) process involving the Building Energy Optimization (BEopt[TM]/EnergyPlus) program developed at the National Renewable Energy Laboratory by modeling the difference between measured energy consumption and predicted energy consumption of residential archetypes. Residential archetypes are defined by clustering 997 homes from the Field Data Repository with categorical and quantitative variables that describe household characteristics. First, highly dependent variables are removed based on each one's variance inflation factor, and a principal component analysis is applied to the remaining variables to produce independent linear combinations for clustering. Both hierarchical clustering and fuzzy clustering are performed with weighted and unweighted Euclidean distances. The number of clusters is selected using the Xie-Beni, C, and Dunn indices, and all three agree on two clusters. Given that the data is not a random sample, the clusters form based on climate, and residential archetypes that apply to the entire United States cannot be defined. However, homes in cluster 1 are generally "warm climate" homes, and homes in cluster 2 are generally "cold climate" homes. Multiple linear regression models are built and compared for homes within each cluster and for all homes, and their predictive capabilities are assessed using leave-one-out cross validation. The following four responses are modeled: measured electricity, delta electricity, measured natural gas, and delta natural gas, where the delta responses are the difference between the RBES predicted and observed energy consumption. The models built for the measured responses indicate which predictors are influential in modeling energy consumption, and the models built for the delta responses indicate where improvements may be made in the simulation process. The models created for all four responses for the warm climate cluster fit the observed data better than the models created for the cold climate cluster. Geometry, duct, and ventilation variables appear most frequently in the models for the delta responses, so information related to these variables may point to improvements that may be made in the simulation process.
Rights
Copyright of the original work is retained by the author.
Collections