In-situ photoluminescence study of the effect of wet-chemical etching on silicon quantum dots, An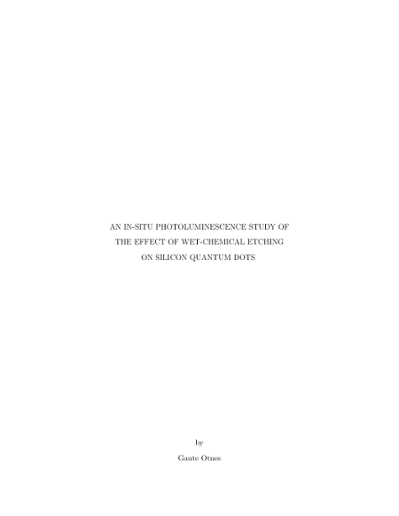 Name:
Otnes_mines_0052N_10158.pdf
Size:
3.364Mb
Format:
PDF
Description:
An in-situ photoluminescence ...
Advisor
Collins, Reuben T.
Abstract
Silicon quantum dots (QDs) are interesting for many applications due to their size-tunable optical properties, combined with material abundance, nontoxicity and potential compatibility with existing silicon technology. For optimal technological implementation, good size-control of these quantum dots is essential. This thesis presents an investigation into size reduction of crystalline silicon QDs by wet-chemical etching using a mixture of hydrofluoric acid and nitric acid. The effects of the etch on the photoluminescence (PL) and absorption of the material are studied in-situ, which allows following the same population of dots in real time as they change size, without any material being added or lost. The PL peak wavelength can be blue-shifted over a wide wavelength range (>250 nm), but a lower limit to this blue-shift is observed at about 550 nm.
Rights
Copyright of the original work is retained by the author.
Collections