Complex wavenumber determination for seismo-acoustic propagation scenarios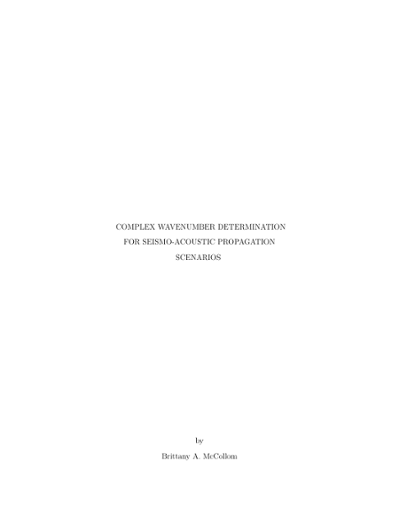 Name:
McCollom_mines_0052N_10149.pdf
Size:
729.2Kb
Format:
PDF
Description:
Complex wavenumber determination ...
Abstract
Seeking a solution to the ocean acoustic problem, that of the Pekeris waveguide with an elastic bottom, using a Green's function formulation, a transcendental characteristic equation is encountered. The roots to the characteristic equation represent the poles, or eigenvalues, for the problem and can be both subtle and difficult to calculate. Following methods previously developed [S. Ivansson et al., J. Sound Vib. 161 (1993)], a root finding routine has been implemented using the argument principle. The poles exist in the complex plane; by enclosing them with a rectangular contour and evaluating the winding integral, the number of poles located within the rectangle can be found. If more than one pole exists in the region, the rectangle is halved and the winding integral is again computed. When only one root lies within a region, the Newton-Raphson method is applied to find the pole. Using the roots to the characteristic equation in the Green's function formulation, accurate full field solutions can then be calculated. In this work, solutions are benchmarked against laboratory data. With verified root finding capabilities, an alternate problem with associated characteristic equation is considered, that of an explosive seismic source in the sediment.
Rights
Copyright of the original work is retained by the author.
Collections